By: Ashmar Mandou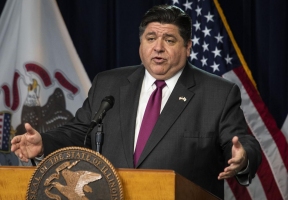 Governor JB Pritzker recently announced his run for re-election on Monday in a Tweet to his followers. "Big news: I'm running for re-election," he wrote. "We've been through a lot, and I've been so proud to see Illinoisans come together during the toughest of times. I'm excited to fight for the state I love with [Lt. Gov. Juliana Stratton], and there's no limit to what we can do going forward." Gov. Pritzker hit the ground running in his campaign announcement releasing a video highlighting his efforts at managing the COVID-19 pandemic. Although the pandemic hindered his plans to focus on other areas, he does have goals in his second term he would like to accomplish. As part of his campaign announcement, Gov. Pritzker held one-on-one media interviews on Wednesday where he spoke to Lawndale Bilingual News about his plans for his second term as well as his concerns.
Hope and Concerns Entering Re-Election Campaign
One of my main concerns is that we are still in a pandemic. As data continues to come in we are finding that 99 percent of those unvaccinated are dying from COVID-19 so we are working really hard to communicate with the people the safety of the vaccine. We are proud that we were able to provide free COVID testing and connect families with the proper health care. Illinois residents lost so much in the last year that our hope is to continue to provide resources and programs for them to be able to live a sustainable life.
Small Business Recovery
We have disseminated over $500 million of federal funding into small businesses across the state. We joined the Illinois Department of Commerce and Economic Opportunity to ensure funding reached businesses hardest hit by the pandemic, which primarily occurred in Black and Brown communities. In the last year, we worked with trusted community partners, worked across several networks to ensure that businesses received the support needed to build back from the pandemic. I'm also focused on providing programs that will inspire potential entrepreneurs who have a dream to open up their own business in their neighborhood. Small businesses are the backbone to economic recovery so it's imperative we continue to provide ample resources.
Second Term Goals
There are so many goals that are just too many to name, but I will say that one of our goals that we accomplished was becoming national leaders in providing affordable child care. We made a series of new investments to make childcare more affordable for Illinois families, we are ensuring quality childcare is accessible for more people. Currently, if you live below the poverty line families can pay $1 per month. My goal is to invest in more programs that allow for more families to prosper and thrive.
Inspiring Youth
Get a good education. Get involved in a local campaign, doesn't have to be mine, but get involved, learn as much as possible. Find what you are passionate about, what moves you, work on those issues, learn everything you can, volunteer and build a relationship with the community. That way when you decide to run for office you will have built trust between you and your community.