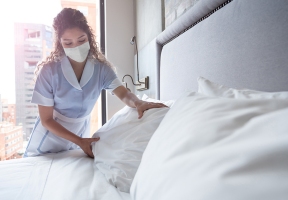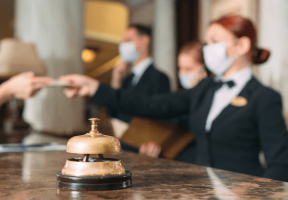 By: Ashmar Mandou
Hotel workers, labor leaders, and City Officials signed the Hotel Worker Right to Return to Work ordinance this week. This piece of legislation requires that as guests return and hotels increase staffing, hotels offer employees their previous positions or other positions for which they are qualified before hiring any replacement workers.
"We are in a crucial moment of our city's reopening to fully support the workforce that allows our city to thrive," said Committee on Workforce Development Chairman Susan Sadlowski-Garza, 10th Ward. "This ordinance reaffirms our commitment to having a strong, vibrant and skilled workforce that will propel our city forward and shows our hotel workers that we appreciate their hard work from pre-covid days and honor the sacrifices they made while the city was shut down."
Over the course of the pandemic, at least 62 Chicago hotels have laid off over 12,000 Chicago hotel workers. This ordinance is an important step in ensuring workers' rights following economic recovery from the pandemic. According to the ordinance provisions, hotel workers would be qualified for a position if they previously held the same or similar position at their hotel. They would also be qualified for a role in the same department or division and offered the same training a newly hired worker would receive.
"My job at the hotel is all I've known for almost two decades. As a 46-year-old woman, it is very difficult to find a new job," said Erika Hernandez, a Humboldt Park resident whose downtown luxury hotel fired her due to the pandemic. "Thanks to this ordinance, I know that I can go back to work at the job I love. It will help protect me and many other women like me." Hotel workers can seek enforcement of this ordinance through civil action after providing notice to their hotels and allowing 15 days for the hotel to cure any alleged violation. The ordinance, which immediately goes into effect, remains in effect until December 31, 2023.