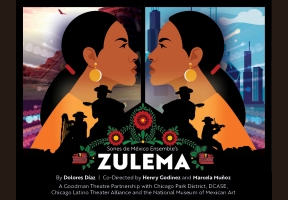 Sones de México Ensemble presenta Zulema por Dolores Díaz y co-dirigida por Henry Godinez y Marcela Muñoz. Zulema, afiliada de Goodman Theatre con el Distrito de Parques de Chicago, DCASE, Chicago Latino Theater Alliance y el Museo Nacional de Arte Mexicano, será un compromiso gratuito de tres semanas que abarcará 10 ubicaciones de parques en toda la ciudad. Además, una actuación especial en el Millennium Park, presentando un elenco espectacular de más de 70 artistas concluirá la temporada. Zulema le llevará a un viaje musical espectacular de muchas miles de millas – desde su hogar en Chiapas en México a Chicago – La joven Zulema zigzaguea por los paisajes culturalmente diversos de su tierra natal y nuestra bella ciudad a lo largo del camino. La estimulante música regional y el baile del Ensamble de Sones de México, nominado al Grammy, hacen un evento alegre para toda la familia. Las fechas de Zulema son las siguientes:
Agosto 5 a las 6:30 p.m. – Calumet Park (Calumet) 9801 S. Calumet Ave.
Agosto 5 a las 6:30 p.m. – Riis Park (Belmont-Craging) 6100 W. Fullerton Ave.
Agosto 7 a las 3 p.m. – Portage Park (Portage Park) 4100 N. Long Ave
Agosto 12 a las 6:30p.m. – Hale Park (Clearing West) 6528 W62nd St.
Agosto 13 a las 6:30 p.m. Hermosa Park (Hermosa) 2240 N. Kilbourn Ave
Agosto 14 a las 3 p.m. – Dvorak Park (Pilsen) 1119 W. Cullerton St.
Agosto 15 a las 3 p.m. – Harrison Park TBC (Pilsen) 1824 S. Wood St)
Agosto 19 a las 6:30 p.m. – Davis Square Park (Back of the Yards) 4430 S. Marshfield Ave
Agosto 20 a las 6:30 p.m. – La Villita Park (Little Village) 2800 S. Sacramento Boulevard
Agosto 21 a las 3 p.m. – Marquette Park (Chicago Lawn) 6721-6757 S. Kedzie Ave.