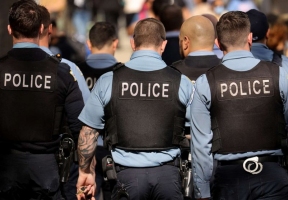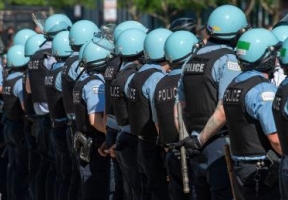 By: Ashmar Mandou
The tension continues on between the Lightfoot administration and the Illinois Fraternal Order of Police (FOP) as the two remain at odds over the COVID-19 vaccination mandates and the city's vaccination portal, as the deadline has now passed.
On Monday, Chicago Police Supt. David Brown says that 21 officers have been placed on no-pay status as a result of failure to put their information into the city's vaccination portal, a decision he states is necessary to help ensure the safety of both officers and of the public amid the COVID pandemic. According to Brown, approximately 67.69 percent of the department's workforce, both sworn officers and civilians, have entered their data into the vaccination portal as of Tuesday. Of those employees, 82 percent say that they are fully vaccinated against COVID, while the other 18 percent will now be subjected to twice-weekly COVID testing through the end of the year. According to Brown, 21 officers have been placed on no-pay status as a result of their refusal of a direct order from the department's Internal Affairs division to put their information in the vaccine portal.
The Chicago Police Department had the lowest response rate of any department in the city, but of the about 64 percent who did report, the majority of officers say they are vaccinated, according to data released by the city. Specifically, 6,894 indicated being vaccinated while 1,333 reported they have not. Those who said they are not vaccinated are required to opt into twice weekly testing for Covid-19 until the end of the year to remain in compliance with the city policy.
"We cannot force any law enforcement office to volunteer for 'Lightfoot duty,' just as no one should be able to force any officer to be injected with chemicals against their will. But for those who choose to volunteer to help or replace their Chicago brothers and sisters, remember that you are going into an unfamiliar, historically dangerous territory under brand new rules in the State of Illinois regarding use of force. These rules, which can, and likely will be, enforced by the Cook County State's Attorney, can put your career and freedom in jeopardy. Many ILEAS agencies are opposed to vaccine mandates and many of the officers in the agencies from which Mayor Lightfoot is requesting help are unvaccinated. So Mayor Lightfoot is willing to replace any CPD officer who is refusing the vaccine mandate with unvaccinated officers from other agencies. The Chicago Police Department is staffed by extremely dedicated and professional law enforcement officers that deserve the state's, and the city's, respect and gratitude. Let the police be the police, not pawns in a game of face-saving political one-upmanship," said Chris Southwood President of the Illinois Fraternal Order of Police.