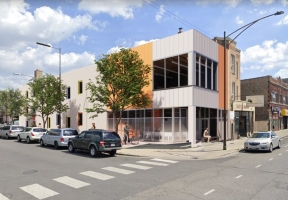 We Rise Together: For an Equitable and Just Recovery today announced it has awarded $7.4 million in critical grant investments to support real estate developments in eight disinvested communities. The 10 projects, set back by the economic impact of COVID-19, will now move forward, unlocking approximately $70 million in stalled real estate developments. These projects have the potential to help catalyze change in the eight communities on the south and west side of Chicago and suburbs by accelerating an equitable recovery in neighborhoods that have experienced decades of disinvestment. We Rise Together is an accelerator to help ensure these predominately Black and Latinx communities hit hardest by the pandemic are not left behind. Grant support will accelerate the development of projects that address the needs of Black and Latinx communities while also having a financial and social impact on the community. We Rise Together, an initiative of The Chicago Community Trust, announced a few of the grant recipients include:
Latinos Progresando, South Lawndale: Latinos Progresando is acquiring and rehabbing a former Chicago Public Library branch that has been vacant since 2009, restoring it to its original community service purpose. The building will house a health clinic operated by Esperanza Health Centers, a federally qualified health center, and an after school program run by Lincoln Park Zoo. Additional services will include job training, business development, legal and social services.
PODER Headquarters, Gage Park: The adaptive reuse project will serve as an immigrant integration and job training center, including English language and workforce development programming and other community and City of Chicago partner resources.
Xquina Incubator and Café, South Lawndale: The business incubator will positively impact the community by providing an open, accessible, and inclusive learning environment through programming and coaching that is both adaptable and culturally relevant. Public and private capital will redevelop approximately 13 thousand square feet of commercial retail, including a business incubator, co-working office, local cafe, and shared commercial kitchen.
To see a complete list of supporters, recipients, or to learn how individuals and organizations can contribute, visit www.cct.org/werisetogether.