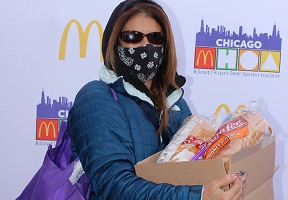 El lunes, 15 de noviembre, la Asociación de Operadores-Propietarios de McDonald's Chicago se unieron a la Asociación de Operadores Negros de McDonald's (BMOA) para ofrecer el 21º evento anual 'Food for the Body and Spirit' [Alimento para el Cuerpo y el Espíritu]. Northern Illinois Food Bank and Bimbo Bakeries USA se unió también al esfuerzo. Cada año, la serie de eventos comunitarios atiende a personas y familias que lo necesitan en Chicago. El martes, en el McDonald's localizado en el 2707 N. Milwaukee, MHOA tuvo su segundo evento de seis y regaló pavos, guarniciones y productos horneados para ayudar a las familias a hacer su temporada de fiestas un poco más alegre que el año anterior. En el curso de seis eventos de regalo llevados a cabo en locales del McDonald's en todo Chicago y el Noroeste de Indiana, MHOA distribuirá 1,500 pavos y guarniciones a los residentes del área. En total, 5,500 pavos y canastas serán distribuídas durante el esfuerzo colaborativo. Los eventos restantes tendrán lugar el:
• 18 de noviembre – McDonald's – 1811 E. Columbus Drive, East Chicago, Indiana
• 19 de noviembre – McDonald's – 1023 N. Lake St. Aurora
• 20 de noviembre – McDonald's – 2844 W. 47th St. Chicago.