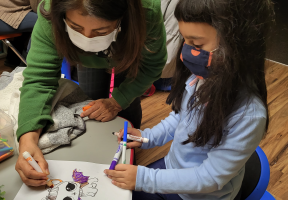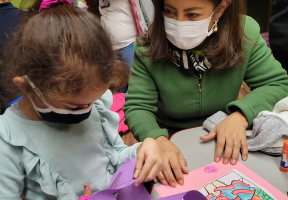 By: Ashmar Mandou
Founded with the intent to provide immigrant families access to quality care, resources, and education, Gads Hill Center serves as the North Star for many seeking to reach their full potential. "I am inspired by the people we serve to continue pushing forward every day," said Chief Executive Officer of Gads Hill Center Maricela Garcia. "The community we serve is full of loving people…they are generous, caring, and hard-working. They are resilient."
Their resiliency was put to the test this past year as the COVID-19 pandemic impacted several nonprofit organizations across Cook County, as many of them had to pivot into a new normal while struggling to meet the demands of those in dire need. "We truly had to rethink how we could continue to provide the resources to our families, especially our children in need," said Garcia. Gads Hill Center provides a plethora of programs, such as Early Childhood Education, providing comprehensive care, physical, cognitive, and language development for over 400 children ages 6-weeks to 5 years-old; Building Leaders, an afterschool enrichment program impacting over 500 youth, ages 8-13, that focuses on developing self-confidence and self-sufficiency through hands-on STEM-based education workshops; and Healthy Minds, Healthy Schools, which serves over 1,000 k-12 students, family members, that supports the child's growth in development.
Gads Hill Center mental health program proved increasingly vital in the last year as they reported students suffering from higher levels of suicidal ideation, panic attacks, lower motivation, and poor coping skills. From July 2020 through June 2021, nine of ten students experienced an increase in the severity of their symptoms and four of five students experienced new symptoms separate from their primary diagnosis. "Last year was definitely a challenge because in order to address the mental health needs of the students, we needed to address the fundamentals of having a roof over their head, food on the table, access to quality healthcare," said Garcia. "The pandemic affected parents and children and we did our best to keep up with the demands because it was a tremendous cause of concern."
In an effort to help increase the mission of Gads Hill Center, Healthy Communities Foundation awarded the organization with a multi-year $600,000 grant to support children and families from the west and south side neighborhoods. "We are forever grateful for the generous grant from Healthy Communities Foundation. A grant this size helps to provide stability, it helps families know that our programs will be here, we will continue to be here," said Garcia. Healthy Communities Foundation awarded Gads Hill Center with a multi-year grant that will provide support to help more than 7,500 people across the west and south sides of Chicago. Part of the grant funds will be used to expand mental health services both in-school and out-of-school, addressing interrupted learning through after-school enrichment programs, providing resources to address food insecurity and evictions, bridging the digital divide by providing computers and internet access, and promoting the health and well-being of residents through resources and educational campaigns. "No families should experience poverty when they work really hard. The communities we serve are full of dignified people, who even though may have experienced traumatic moments in their lives remain generous and optimistic, said Garcia. "We are here to serve and invest in our families." If you would like to learn more or enroll in one of their programs, visit www.gadshillcenter.org.