Recopilado por Ashmar Mandou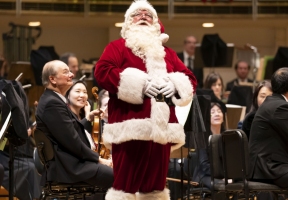 Disfrute los últimos días de Navidad en Chicago con unos cuantos eventos llenos de diversión que ocurren en la ciudad, desde Merry, Merry Chicago en Symphony Center a los sonidos navideños con un toque latino, compre sus boletos hoy y únase al espíritu navideño.
Merry, Merry Chicago! Orquesta Sinfónica de Chicago
De hoy al 23 de diciembre
Centro Sinfónico
https://cso.org/performances/21-22/cso-specials/merry-merry-chicago/
La Orquesta Sinfónica de Chicago adorna los pasillos del Symphony Center con el regreso de su popular concierto de Navidad, uniéndose a la estrella de Broadway Jessica Vosk para una noche de clásicos navideños y arreglos festivos de composiciones clásicas. Además de los villancicos como "Jingle Bells" y "Oh Come, All Ye Faitful", el programa de este año presenta selecciones de Sound of Music y Babes in Toyland.
Mariachi Herencia de México
Dic. 17 Old Town School of Folk Music
Dic. 18 Old Town School of Folk Music
Dic. 19 Thalia Hall
https://linktr.ee/mariachihermex
Mariachi Herencia de México, con base en Chicago, presenta su 'A Very Merry Christmas Concert' en Old Town School of Folk Music y Thalia Hall, presentando cuatro shows en el curso de tres días. Espere escuchar muchas canciones navideñas familiares con un toque latino, incluidas versiones de "It's the Most Wonderful Time of the Year", "Winter Wonderland", "Los Peces en el Río" y "Christmas Don't Be Late".
The Nutcracker
Civic Opera House
De hoy al 26 de Diciembre
https://joffrey.org/season-and-tickets/nutcracker/
Después de casi 30 años de la producción de El cascanueces del cofundador retirado Robert Joffrey, Joffrey Ballet debutó con una nueva versión en 2016, ambientada en Chicago con el telón de fondo de la Exposición Mundial Colombina de 1893. La producción de este año se llevará a cabo en Civic Opera House (donde también reside Lyric Opera), con música interpretada por Lyric Opera Orchestra y la impresionante coreagrafía de Christopher Wheeldon.