By: Ashmar Mandou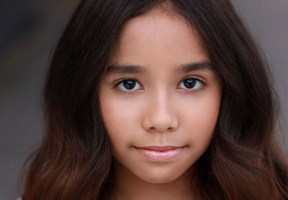 Charmingly enthusiastic, Arwen Monzon-Sanders, 11, who plays a young Elsa in Disney's Frozen North American Tour, is practically a real life Disney princess with her endearingly animated tone and personality. "I feel so honored to play a young Elsa," said Monzon-Sanders. "It makes me feel happy and honored to be able to see so many children happy and singing along." In her short life, Monzon-Sanders accomplished quite a lot from earning a spot on "Annie Live!" on NBC, to singing along on an episode of Sesame Street, to playing a young Anna in Disney's Frozen in the first part of the North American Tour. Now, in her new role as young Elsa, Monzon-Sanders is sharing what she loves most about being part of the Frozen family and what she hopes children gain from watching the epic Broadway musical hit.
Lawndale Bilingual News: You play a young Elsa in Disney's Frozen. How does it feel to be a part of something that brings so much joy?
Arwen Monzon-Sanders: It makes me feel so honored to be able to make kids so happy by watching the shows. I know kids love Anna and Elsa, they love seeing them in their dresses and every time I perform, I see the kids in the front row looking so happy and all I can feel is honored. I also feel happy because it's been a while since I have been able to see my Frozen family.
Lawndale Bilingual News: What do you love most about playing a young Elsa?
I love playing a young Elsa because she's so mysterious; she has these powers that she's supposed to keep hidden away from Anna. So that's my favorite part, she mysterious, she wonders what she can do with all this magic; all the magic inside of her controls the way she feels, the way she acts and it's all so pretty on stage, backstage, and even in the audience when you see it. It's so cool.
Lawndale Bilingual News: What lesson do you hope children learn from watching Frozen on Broadway?
I hope young kids learn that you can do anything when you are together. Frozen is all about love and togetherness and treating others with love. It's about treating yourself and others with kindness, love, and respect. It's about working together because together you can do anything.
Lawndale Bilingual News: What does being a Disney princess mean to you?
I feel represented. I was honored to be the first Latina to play a young Anna in Disney's Frozen in their first North American Tour. Once I had that wig on, I was just overjoyed. You know sometimes in life people can bring you down because they are used to seeing a character in a certain way. It's beautiful to see that any child, no matter their race or color, can play a character. That's how dreams are made. When children see themselves represented. Being Latina it brings joy to me because it means Latinas can do anything, Latinas have power. That's what being a Disney princess means to me.
Photo Credit: Broadway in Chicago