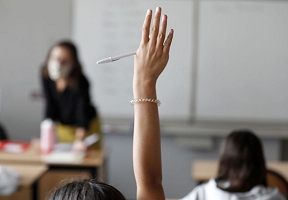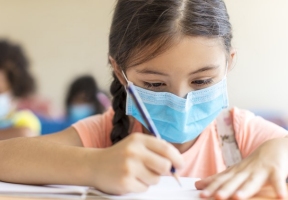 By: Ashmar Mandou
Despite Tuesday's announcement from Mayor Lori E. Lightfoot over the roll back of mask and vaccine mandates for certain public settings, the Chicago Public Schools stated mask mandates will be kept in place to help "preserve in-person teaching," and to keep students and educators safe.
Following the announcement, a CPS rep said, "CPS stands by our proven COVID-19 safety mitigation measures and is pleased the Appellate Court has confirmed that the Temporary Restraining Order does not prohibit school districts from independently requiring masks, vaccinations for staff, and requiring individuals who have tested positive or have been exposed to COVID-19 to learn/work from home." They continues, "Our schools will continue to enforce these policies, including mandated universal masking. These safety measures are what have allowed us to provide our students with the in-person learning environment they need throughout this school year. We will continue to follow these protocols until such time as our public health partners advise us that restrictions can be safely lifted."
According to CPS officials, nearly 53 percent of students age 12 and older are now fully-vaccinated against COVID, while nearly 1-in-3 students under the age of 12 has received at least one dose of the vaccine. More than 91 percent of teachers are fully vaccinated, according to officials. The Chicago Teachers Union issued a statement following Mayor Lightfoot's announcement loosening mask mandates, except in schools, where the CTU safety agreement continues to provide mask protections to students and staff.
"We're glad that CPS will continue to honor the safety agreement that our members sacrificed four days of pay last month. This agreement provides Chicago's public school communities with the legal right to guarantee safety, despite a right-wing legal attack to remove public health protections. Vaccination rates are still not where they should be in many Black and Brown communities and among our students, especially children aged 5-11. Masks remain a critical layer of safety against a virus that continues to infect and cause deaths every day. We have used our agreement to double the number of children who can be tested for COVID-19 weekly, but we still have a long way to go in ramping up not only testing but also vaccines for students. This is the most effective way to protect educators, students and their families from COVID-19."
According to the City of Chicago, beginning Monday, Feb. 28th masks and vaccine requirements will no longer be asked to enter certain public settings. However, masks will continue to be required in health care settings, on public transit, and in other congregate settings.