By: Ashmar Mandou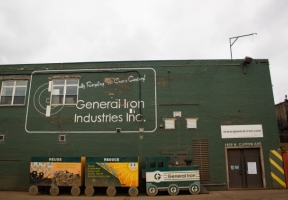 Elected officials, including Alderman Byron Sigcho Lopez, Alderwoman Rossana Rodriguez-Sanchez, and Southeast residents assembled outside of Mayor Lori E. Lightfoot's City Hall office Wednesday morning to urge the administration to deny the permit for the RMG/General Iron operation due to environmental and social concerns.
A proposal from General Iron to operate a metal shredding and recycling operation in the City's Southeast neighborhoods would harmfully contribute to the health of residents, according to the Southeast Environmental Task Force Director Olga Bautista. "We need transparency, we would like to know if environmental factors are also a concern of theirs. We want to ensure our quality of life will not be compromised," said Bautista.
Later this week, the City of Chicago and the Chicago Department of Public Health will announce their decision if they will move forward with the final permit for Reserve Management Group, known as RMG. Once the decision is announced, the City will publish a summary of the health impact assessment it conducted of the proposal's impact on surrounding areas and the report will be released at the end of this month.
Southeast residents criticized the Department of Public Health, saying the Department "is defined by a lack of transparency and community engagement.  As federal agencies continue to investigate civil rights complaints triggered by the proposed move of the car crusher, residents and elected officials will denounce the City's flawed community engagement process and insist that the Lightfoot administration already has the information it needs to deny General Iron's permit."
Last year, U.S. EPA Administrator Michael Regan wrote a letter calling on Mayor Lightfoot to pause the approval of the recycling facility permit for the relocation of the General Iron metal shredding facility, now owned by Reserve Management Group, to the Southeast Side. In the same letter, Regan cited "significant civil rights concerns" and asked the city of Chicago to conduct an environmental justice analysis of the impacts to the Southeast Side community as well as how those impacts compare to the burdens "experienced by other neighborhoods, including wealthier, white neighborhoods like Lincoln Park, where General Iron operated for decades.
Residents and advocates of the Southeast area have urged the city to block the recycling company to suspend its plan to operate in the 10th Ward, an area of the city that already experiences air and soil pollution, for the past few years. According to the Chicago Department of Public Health, the permit will be based on several factors, including the community's "current burden and vulnerability" as well as how the company's impact on environment, healthy and quality of life."