By: Ashmar Mandou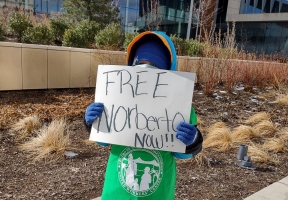 Members of Centro de Trabajadores Unidos (CTU), the Illinois Coalition for Immigrant and Refugee Rights, and protestors rallied for Norberto Navarro on Tuesday outside of the Will County courtroom to protest the illegal detainment and potential deportation of Navarro. "My son is unjustly imprisoned by Will County. He is a hero, and instead of letting him go home to his family Will County made an agreement with ICE to keep him locked up. Because of the Will County State's Attorney's Office, Norberto missed his daughter's 10 year old birthday last week. We all miss him terribly, his daughter especially. She cries every holiday and constantly talks about her father," said Aida Navarro, Norberto's mother.
On March 17, seventeen elected officials in Illinois sent a letter calling on the Illinois Attorney General Kwame Raoul to enforce the TRUST Act and the Illinois Way Forward Act. The Illinois Way Forward Act, a sanctuary law passed last year, forbids IL law enforcement from detaining people on Immigration and Customs Enforcement's (ICE) behalf. It also prevents law enforcement in Illinois from communicating with ICE about individuals in their custody and transferring individuals to ICE. The letter also outlines how the Will County State's Attorney's Office entered into an agreement with ICE on January 18 to transfer Norberto Navarro from ICE detention to their custody, detain Norberto in a Joliet jail, and transfer Norberto back to ICE after he testifies as a witness in a trial this week.
Navarro has lived in Illinois as a legal resident for over 20 years. He grew up, attended school, worked, and raised his family in Calumet City, IL. Norberto was put into deportation proceedings last year, and faces the risk of being separated from his daughter, family, and community. Over 1500 people have signed a petition calling for ICE to stop his deportation. "The hardest thing is being away from my daughter," says Navarro. "She is the person I love most in the world, and it's unfair that I'm being kept from her for no reason."   Navarro is scheduled to testify as the first witness in the trial of a driver who killed a pregnant mother and her three children. Norberto has been illegally imprisoned by Will County for the past two months based on an agreement they made with Immigration and Customs Enforcement (ICE). The Will County State's Attorney's Office has detained Norberto in Joliet, without criminal charge, until he appears as a witness in the trial.