Ingredients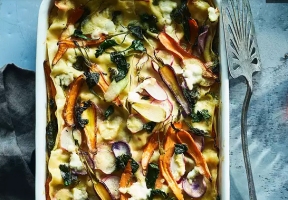 * 1 tablespoon unsalted butter, plus more for the pan
* 2 ½ cups low-sodium vegetable or no-chicken broth
* 1 ½ cups mascarpone cheese
* 1 teaspoon chopped fresh thyme
* ½ teaspoon chopped fresh oregano
* 1 ¼ teaspoons kosher salt
* 8 cups tightly packed fresh spinach leaves (about 10 ounces)
* 9 ounces no-boil lasagna noodles
* 3 cups thinly sliced carrots, turnips and/or radishes
* 8 ounces crumbled farmer's cheese
Directions
* Step 1
Preheat oven to 375 degrees F. Coat a 9-by-13-inch baking dish with butter.
* Step 2
Whisk broth and mascarpone in a medium saucepan over medium-low heat until smooth, about 5 minutes. Add thyme, oregano and salt; remove from heat.
* Step 3
Heat the remaining 1 tablespoon butter in a large skillet over medium heat. Add spinach and cook, stirring, until wilted, 2 to 3 minutes. Remove from heat.
* Step 4
Arrange 4 noodles in the prepared baking dish, slightly overlapping. Top with 1/4 cup of the spinach and 3/4 cup vegetables. Pour on 1 cup of the mascarpone mixture and top with 1/3 cup farmer's cheese. Repeat to make 4 layers. Cover with a piece of foil coated with cooking spray.
* Step 5
Bake the lasagna for 25 minutes. Uncover and bake until the edges start to crisp, about 15 minutes more. Let stand for 10 minutes before serving.