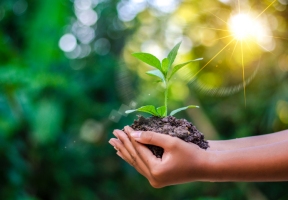 Environmental science lessons and the opportunity to participate in a variety of initiatives aimed at protecting the earth's resources are part of school life in Chicago Public Schools (CPS) but like many districts, the number of environmental-related special events and activities will increase this week in advance of Friday's 52nd anniversary of Earth Day. The events, which include nature walks, coat swaps, and gardening, are direct results of Earth Day – created in 1970 by former Wisconsin governor Gaylord Nelson to increase awareness and public support for the creation of the Environmental Protection Agency (EPA) – to address America's environmental issues. The day is celebrated each year on April 22. Residents can join the CIMBY Earth Day Event Saturday afternoon, April 23, at Big Marsh Park in the Calumet Corridor. The CPS CIMBY program is working with community partners such as the Chicago Park District, The Field Museum, and Faith in Place to host a youth-centered event to connect Chicago youth to green job opportunities and to local community leaders. Schools across the District hosting environmental pop-up events and hands-on learning opportunities this week include:
Edward Tilden Career Community Academy High School, 4747 S. Union Ave. (April 22): Students will garden in beds surrounding the school, and build an indoor vertical garden system donated by District vendor Aramark (Outdoor activity: 10 a.m. to 12 p.m. and Indoor activity: 12:30 p.m. to 2 p.m.). The plants from the garden will be included in the ingredients of the Spicy Bean Burger which will be served District-wide to students for lunch on Earth Day.
John H. Kinzie Elementary School, 5625 S. Mobile Ave. (April 22): The 8th grade students are hosting a water walk to bring awareness to the global water crisis and raise funds to donate to support this cause (8 a.m.).
James H. Bowen High School, 2710 E. 89th St. (April 22): Biology students will conduct an assessment of the local school grounds in preparation for native plantings this spring, as part of the CIMBY program. (8 a.m. to 10 a.m.)
Suder Montessori Elementary Magnet School, 2022 W. Washington Blvd. (April 22): Earth Day Celebration to include gardening, wildlife observation, and art, among other activities (9:30 a.m. to 11:30 a.m. and 12:30 p.m. to 3:00 p.m.)