By: Ashmar Mandou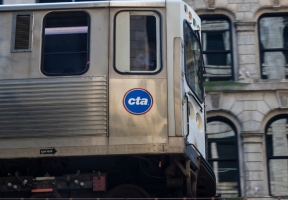 Congressman Jesús "Chuy" García (IL-04) a Member of the House Transportation and Infrastructure Committee and co-founder of the Future of Transportation Caucus, and Senate Majority Whip Dick Durbin (D-IL) sent a letter to Chicago Transit Authority (CTA) President Dorval Carter early this week urging him to implement a provision required by the Infrastructure Investment and Jobs Act (IIJA) that will help improve the safety of transit workers and passengers.
"Assaults on transit workers have been a serious, long-standing issue in Chicago and across the United States. The IIJA contains groundbreaking provisions to improve worker safety by requiring joint management-labor safety committees be set up, and plans developed and implemented by these committees to address this and other safety concerns transit workers face," said Congressman Jesús "Chuy" García in a statement to the media. "There has been a recent uptick in safety incidents on CTA's subways and buses that has caused public concern. I look forward to working with CTA and the local Amalgamated Transit Unions to implement policies that address these safety concerns for both passengers and transit workers, while ensuring that we don't over-police Latino and Black customers. Using the new tools and funding from the IIJA, we can ensure public transit is safe for everyone to ride."
IIJA requires transit agencies to establish new safety committees, made up of an equal number of frontline employee representatives and management representatives, to identify safety issues and develop strategies to mitigate them; use a portion of their federal funds for safety-related projects developed by the committees; and report all assaults on transit workers to the National Transit Database, which the Federal Transit Administration (FTA) and transit agencies rely on in developing safety solutions.
Last month, Durbin met with leadership from the Amalgamated Transit Union (ATU), which represents thousands of CTA workers, to discuss new safety measures included in IIJA to better protect transit employees while on the job.
In their letter, Congressman García and Senator Durbin emphasize that, "These new requirements, paired with the significant increase in transit funding the CTA will receive from the IIJA, should allow the CTA to implement policies that will protect its employees and customers while further investing in the capital projects necessary to improve the system, expand capacity, and rebuild ridership lost during the pandemic."