By: Ashmar Mandou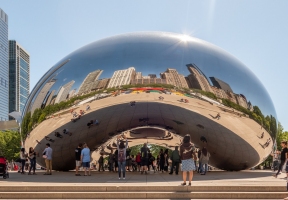 The City of Chicago announced two curfews for minors goes into effect on May 19th, for those under the age of 18-years-old, following a string of recent violence in the downtown area.
"I'm urging parents, guardians and responsible adults in the lives of children to make sure that you know what the rules are, and that you make a plan with your children and young people to make sure that they safely abide by this curfew that's been in effect for a very long time," Mayor Lori Lightfoot said. "You need to make sure that you understand what your young people are doing, who they are with and where they are going."
The weekend curfew for Millennium Park takes effect and includes unaccompanied minors under the age of 18-years-old, according to guidance issued. The new rule bans unaccompanied minors under the age of 18 from visiting the park after 6 p.m. Thursday through Sunday. The city will also enact a 10p.m. citywide curfew. The curfews were enacted following the fatal shooting of 16-year-old last weekend near Millennium Park. "Tragically, a young person – a teenager – lost his life last night in Millennium Park. I suspect an overwhelming majority of the youth who were in the Park were there to have a good time and enjoy a summer evening. But the scene devolved into one of chaos and unnecessary violence," said Lightfoot.   
  
Effective immediately, from Thursday through Sunday, unaccompanied minors are not allowed in Millennium Park after 6p.m. The new policies "will be strictly enforced and violations will be dealt with swiftly," stated in a press release. All residents and visitors under the age of 18 are welcome at the Park during the evening hours as long as they are accompanied by at least one responsible adult.  According to the City of Chicago, they intend to partner with Chicago Public Schools and other local school systems to fully explain this new policy to students, as well as to encourage guardians to ensure that their children are conducting themselves appropriately and safely at all times.
  
The last citywide curfew in place was in 1992, 11p.m. weekend curfew for teens 16-years-old and under.