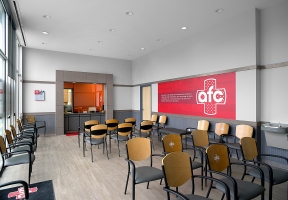 A new state-of-the-art urgent care facility has opened in Morton Grove as American Family Care (AFC), the nation's largest provider of urgent care and accessible primary care, expands its footprint with just the second Chicagoland location. "We're thrilled to have the chance of helping so many people in our community," said Sanjay Patel, M.D., who brings 22 years of practicing medicine to his role as one of two medical directors of AFC Morton Grove. "Urgent care is becoming more and more popular because of its convenience and cost, along with the benefits of treating patients right away. Our main priority is providing the best and most qualified medical staff in the area."
 
AFC Morton Grove Services
 
• Consistent Availability – The new AFC can treat a large number of patients thanks to its five exam rooms and dedicated staff.
• Laboratory on Site – AFC's on-site laboratory provides a wide variety of lab work, including COVID-19 testing. Most lab results are available within minutes.
• State-of-the-Art Diagnostics – On-site equipment allows AFC staff to take and read x-rays within minutes. Patients are provided with copies on a C.D. upon discharge.
• Occupational Health Exams and Workers' Compensation Cases – These services include D.O.T. physicals, urine drug screens, and breath-alcohol tests.
• Schedule Appointments Online – Patients are able to schedule appointments online at https://www.afcurgentcare.com/morton-grove/.
For more information about services and hours, visit AFC Morton Grove online.