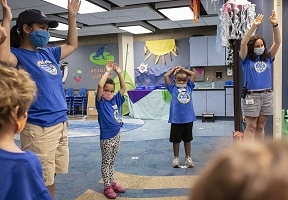 El Acuario Shedd anunció haber recibido un subsidio de $1 millón, del Bank of America, en apoyo al Compromiso del Centenario. Específicamente, el fondo alimentará la participación de lacuario en programas del sur y oeste de Chicago y en los parques de la ciudad, aumentando el acceso a la naturaleza y ofreciendo oportunidades para el aprendizaje y la curiosidad de los jóvenes en la ciudad, durante los meses de verano y después. El apoyo de Bank of America será aplicado a una variedad de programas co-creados con líderes comunitarios y designados a hacer la programación del Acuario Shedd más accseible dentro de las comunidades de Chicago. Estas actividades, campamentos y festivales llegarán a los jóvenes todo el año, incluyendo el tiempo crítico cuando las escuelas no están funcionando. Basado en barrios como Austin y N. Lawndale, los residentes no necesitarán viajar lejos para experimentar las maravillas del mundo de los animales acuáticos. Algunos de los programas creativos que serán parte del Shedd, apoyados por Bank of America incluyen:
• La participación del Shedd en el Campamento de Verano de Exploración de Proyectos y un campamento práctico STEM en parques y bibliotecas en Austin y otros barrios de Chicago en el sur y el oeste, presentando oportunidades de aprendizaje experiencial en asociación con organizaciones de servicio a la juventud.
• La participación del Shedd en Park Voyagers, un programa de colaboración entre Museos en el Parque y el Distrito de Parques de Chicago que lleva la maravilla de instituciones culturales como el Shedd directamente a los parques de la ciudad para ofrecer experiencias de aprendizaje y actividades.