Leticia Garcia
Running for Cook County Commissioner of the 16th District
Occupation: Trilingual Registered Nurse
Agenda: www.lettygarciaforcookcountycommissioner.com
Motivation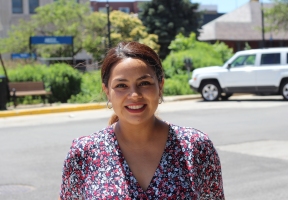 As the first generation Latina to attend college from both sides of my family, it was an eye-opening experience. To meet people from all backgrounds, different cultures, and different perspectives…I learned a lot about myself, I learned how to advocate, I helped to bring a Latino organization to DePaul University, such as the Latinx Alumni Board and I am a member of the National Association of Hispanic Nurses and brought the first of its kind IL transplant fund, where we helped pass legislation to allow patients, who are 97 percent Latinos, without medical insurance to get lifesaving organ transplants at no cost to them or on taxpayer dollars. My activism kicked started in college and being a registered nurse allows for a unique experience to truly understand and represent the needs of my community.
Top Priorities
Being a registered nurse my top priority is health care. If elected, I will work closely with Cook County Health Care to ensure our community is being taken care of, whether it's in health care or in a different aspect. Women's Rights is another key issues, the rights to their bodies, the rights to medication. In addition, my priority will be serving our senior citizen community. Getting pharmaceutical products within the budget that they can afford is a key issue for me as well. The pharmaceutical gouging is a huge issue for me; it's disheartening to see senior citizens unable to afford the medication that they need. Another key issue that I will tackle is our mental health crisis. We need to make sure there are enough counselors who are able to speak multiple languages to help address the need of those from all over our district. We need to identify the root causes of why people are experiencing a mental health struggle and bring back resources whether it's in education, policing, safety, nursing, and accessibility to mental healthcare.
Vote
People should vote for me because they will have someone who is passionate, who will give back to the community, who will be the voice of the community. They have a choice now and that's really important, it's not someone who was appointed, but our community has a choice to make for themselves. So if they are currently happy with the politics that we have today, maybe I'm not the right candidate for them. However, if they are passionate about giving back to the community, making sure their voices are representative, making sure that they have a new face in politics, and know their vote can change the stereotypes of politics then I am your choice.
Erin Jones
Running for Illinois State Senate of the 10th District
Occupation: Chicago Police Officer
Agenda: www.ej4senate.com
Motivation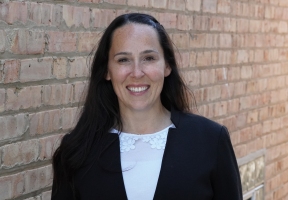 I think it's important that I am just the average community member, we have these political elitists that are so entrenched and are extremely divisive. They do not understand that the average community member isn't going to follow along their lines 100 percent, nobody is going to agree with another person 100 percent, but our current representatives have put it out there that with me 110 percent then you don't deserve to be represented, you don't deserve a table, you don't deserve a voice. And this is what they've been doing and what people are sick of it. There is so much corruption and I think that's why we are in the financial state we are in. When you have people like our incumbent who are tax attorneys, who are property tax attorneys, we are getting fleeced while big developers and political insiders and law firms reap all these taxpayer money. Our property taxes go up and their firms make money and for them to turn around and say they are for the average family, they are for the little guy…it's insulting. Families want better.
Top Priorities
Addressing crime will be my top priority. For example, the Safe-T Act. I think there is a lot of reckless legislation in that Safe-T Act. I'm not saying that it's all bad, I know there were some lawmakers that had good intentions, but at the end of the day, pushing an 800 page bill through the dead of night, people knew what they were doing. I believe it is union busting. As officers we have multiple certifications that we have to be in compliance with, if not, we cannot be officers. To put a blanket, arbitrary certification on every Illinois law enforcement officer that can be pulled at will…that's union busting plain and simple. It circumvents our collective bargaining agreements and I believe there is a lot of Democrats that are actively participating in union busting. I really want to focus on getting the Democratic Party back to what it once was, the party of unions, the party of the workers, and the party of families. I know mental health and drug addiction are big issues. When I worked as a narcotics officer in the Bureau of Organized Crime, we had a diversion program where if we had someone in custody that came up in a search warrant that wasn't a hardened criminal, we would take them to a drug rehabilitation program and I think it was great. There are people out there that need our help. I would like to see that expanded more because it would curb the crime that is happening.
Vote
I want to do what is best for my community. I don't feel that we are being represented in Springfield. Our incumbent is not a public servant. He's never been in a union. This is a financial stake for them, for their companies. I believe in my heart of hearts I am a public servant, my husband is a Chicago Firefighter, we are first responder family and we want what is best for our community and for our kids.
Natalie Toro
Running for Cook County Commissioner of the 8th District
Occupation: Chicago Public Schools Teacher
Agenda: www.toroforcook.com
Motivation

I always had the desire to give back. I am a CPS teacher, so I am already a public servant and I know I am capable of doing more. I was born in this community, I grew up in this community, and I work in this community. I am this community. This is a grassroots effort. Everything we have, everything that we raised is from a community that believes in us so I think, while this is daunting and challenging, it's all meaningful because we are backed by the people that we are planning to serve.
Top Priorities
My top priorities will be taxes, healthcare, and public safety. When it comes to healthcare, I think we have a real mental health crisis in our communities after Covid, especially. Cook County budgeted $9 billion and 91 percent of that goes to public safety and public health so you'd think we'd be experts in mental health resources. However, we are not and that's something that I really want to fight for and the County Board has been doing an amazing job with certain programs, but it needs to be expanded. There needs to be more mental health and behavioral health resources. For example, there is a program on the south side of Chicago that is a 24 hr triage center that offers mental health services. Mental health isn't a criminal justice issue, it's a health issue; people shouldn't have to be arrested or have a medical emergency to seek mental health services and they already have these resources in the Roseland area and I want to bring that into the 8th district. Public Safety, when we talk about public safety, and crime prevention, we have to talk about the holistic ways we do that and so we know an area that is thriving has a lot to do with physical space, clean green space, access to quality education and economic justice; these problems didn't happen overnight so they are not going to be solved overnight, but addressing the root causes of crime, which is mental health and trauma and economic insecurity is a step in the right direction.
Vote
I am hearing the people of my community. They are tired with their run- of- the mill career politician and candidate. They want someone different. They want a fresh face, someone with a different perspective, new ideas and that's me. I live and I serve in my community. People do not know who their cook county commissioner is and that's a problem because they decide how your tax dollars are spent and when I'm on the county board they are going to know my name because I am going to bring them along on the process. I want to give them a voice and I want them to trust me to be their voice.