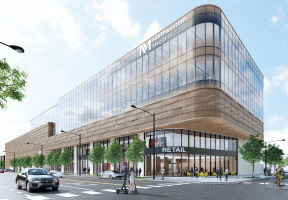 Northwestern Medicine is planning for a new 120,000-square-foot advanced outpatient care center on the 4800 block of South Cottage Grove Avenue. U.S. Senate Majority Whip Dick Durbin (D-IL), City of Chicago Mayor Lori E. Lightfoot, and 4th Ward Alderman Sophia King joined Northwestern Medicine leadership and local community members to announce the planned development at a press conference this afternoon. Subject to regulatory approval, construction could begin in summer 2023 with a scheduled opening in summer 2025. The advanced outpatient care center will reflect the culture of the neighborhood and will offer patients numerous offerings, including: 
• An Immediate Care Center to provide urgent care;
• Primary and specialty care by Northwestern Medicine physicians; 
• Pharmacy services; 
• Diagnostic services, including mammograms and lab tests;  
• Cancer Center with chemotherapy services; 
• Resources and programming for individual and community health; 
• Opportunities for local retailers.
The center is expected to serve more than 50,000 patients and family members from Bronzeville and nearby communities every year. Approximately 1,000 construction and 100 healthcare and related jobs will be created. In 2020, Northwestern Medicine hired a new recruitment manager to identify job candidates from Chicago's South and West Sides. For more information about Northwestern Medicine, visit NM.org.