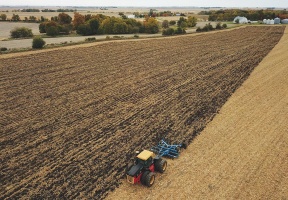 Smart growth and investment in Midwest downtowns and main streets must occur now to secure the land that grows our food, according to American Farmland Trust's new report Farms Under Threat 2040: Choosing an Abundant Future and the accompanying web mapping tool. AFT's Farms Under Threat research has shown that by 2040, as many as 3,165,000 acres – nearly 5,000 square miles of farmland may be lost to urban and low-density conversion across the Midwest (Illinois, Indiana, Iowa, Michigan, Minnesota, Ohio, and Wisconsin). Six Midwest states (IL, IA, OH, IN, WI, and MN) make the top 10 list of states when assessing acres of farmland converted to urban development by 2040. This loss will disproportionately impact smaller farms that often serve local markets with fresh produce, eggs, dairy and meat. The Midwest is also experiencing a market surge to meet renewable energy goals. These climatic factors will lead to increased flooding, compromised drinking water, reduced air quality and greater pressures on agricultural land. 
• If recent trends continue, 363,375 acres of Illinois's farmland will be paved over, fragmented, or converted to uses that jeopardize agriculture by 2040. That represents an area nearly 2.5 times larger than the City of Chicago and equates to the loss of more than 1,500 farms and 3,400 farm jobs.  
• Protecting Illinois's farmland from poorly planned development and residential sprawl is of both local and national importance given that 81 percent of farmland conversion will occur on some of the most productive and versatile land in the country. 
Register for a webinar on August 8, 2022, Illinois, https://register.gotowebinar.com/register/2104362325096557582