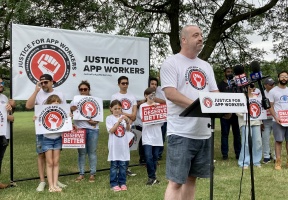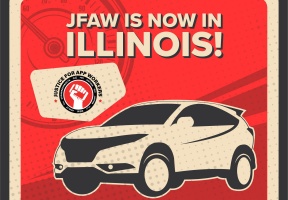 "Chicago app workers are literally fighting for our lives – and now that we're standing together, we will win!" said Manny Leyva, full-time Uber driver and member of SOS Uber y Lyft, one of seven Illinois worker advocacy organizations that have joined ranks to become part of the largest national labor coalition taking on the gig economy. 
At the first annual Chicago GigFest on August 14th, Manny gathered with Illinois rideshare drivers and delivery workers for a rare day of rest and celebration with their families. There, they announced that seven local worker advocacy groups representing 20,000 drivers and delivery workers are launching a new fight against Uber, Lyft, DoorDash, Grubhub, and other big tech giants as the first Midwest expansion of the historic Justice for App Workers campaign that started in New York earlier this year.
As app workers in Chicago continue to face an alarming rate of carjackings and violent assaults, high gas prices and inflation that leaves them struggling to pay their bills, and lack of basic access to sanitary bathrooms, the groups have formed a united front to demand better pay, safer working conditions, and the right to form a union. "The violence app drivers are experiencing is terrifying. We risk our lives every day – then, after the app companies take their cut and we shell out for gas, we have nothing to show for our work at the end of the day," said Mattia Nanfria, leader of Road Warriors Chicago and a full-time Uber driver. "Uber, Lyft, and all the Big Tech companies don't think we can come together, but they're underestimating us. Now that we're united, we're ready to change this industry for good."
According to polling of drivers and delivery workers in the tristate area conducted by Justice for App Workers in 2021, 77 percent of app worker respondents said they struggle to make monthly payments like rent, utilities, car payments, and other bills. Eighty-Two percent would fall behind on bills within three months if they couldn't drive or deliver.