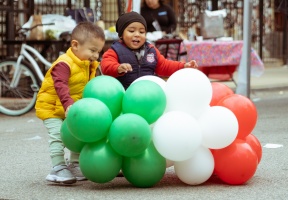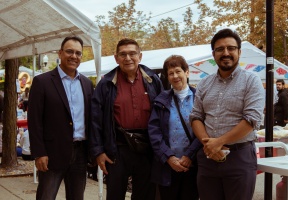 By: Ashmar Mandou
A beloved Pilsen institution celebrated a pivotal anniversary of servitude helping to enrich the lives of families spanning 50 decades. Established in 1972 by five extraordinary individuals Rev. Joe Burgos, Juan V. Morales, Philip Ayala Sr., Grace Gonzalez and Father Murphy, El Hogar del Niño is an award-winning, accredited bilingual early childhood education organization serving over 300 students from Pilsen, Little Village, and South Lawndale communities. To kick off the 50th anniversary, El Hogar del Niño hosted a block party last Friday, which welcomed local restaurants, live music by Madera Once, and loads of family friendly activities. El Hogar del Niño intends on hosting several celebratory events in the year ahead. Amidst the celebration, Executive Director of El Hogar del Niño Mario Perez spoke to Lawndale Bilingual News about the organization's legacy and future plans.
Lawndale Bilingual News: El Hogar del Nino is celebrating 50 years of servitude with a block party bash on Friday, the first of many special anniversary events in the year ahead. What has it been like for you to be at the helm of an organization that literally changes lives?
Executive Director Mario Perez: It's a special honor to lead an organization like El Hogar del Niño, which has been part of the community for 50 years. Since 1972, the organization has proudly invested in developing the children of Pilsen & Little Village. We help create the next generation of resilient leaders through our award-winning early learning programs and responsive family support services that promote stability & wellbeing so families can meet their full potential. Like our neighborhood, El Hogar del Niño has a strong community of dedicated and compassionate staff members. Two of our current teachers got their start as preschool students in our classrooms, and another two teachers started as parents of our students. Our five-person senior leadership team has a combined 91 years of experience at El Hogar del Niño. I'm proud of our dedicated staff and the collective impact we have had – and will continue to have – for years to come.
How do you view the importance of El Hogar del Nino's legacy and impact in the community for the last five decades?
El Hogar del Niño's legacy very much reflects Pilsen's identity as a resilient, activist community. Our organization has five co-founders: Reverend Joe Burgos, Juan V. Morales, Philip Ayala Sr., Grace Gonzalez, and Father Murphy. When these five community activists noticed more women entering the workforce in the 1970s, they mobilized to create a childcare center that would provide scholastic excellence in a setting as comfortable as abuelita's house. From their leadership, El Hogar del Niño (Home of the Child) was born.
Research supports what we know from five decades of service: vulnerable families receive the strongest advantages from quality early learning programs like ours – benefits that can improve life outcomes for generations. Our services are essential to the families we serve, and we consistently prioritize supporting working families, single parents, immigrant families, children in the foster care system, children with diverse abilities, and those experiencing trauma and loss of housing. We take seriously our role in reducing obstacles and expanding access to quality early learning for Latinx students, ultimately helping close the achievement & wealth gap between them and their peers.
How do you intend to celebrate the 50th anniversary of El Hogar del Nino in the year ahead?
In the year ahead, we will host a holiday party for our staff, special events for our families, and return to our annual in-person fundraiser. We are also creating a video that illustrates our history and impact, and features voices of our key champions. We welcome the community to honor our 50th anniversary by sharing their stories of their connection to El Hogar del Niño, and by supporting our upcoming Turkey Drive and Toy Drive. Details will be shared on our website (elhogardelnino.org) and our Facebook page.
What plans would you like to see come to fruition in the years ahead?
We aim to continuously strengthen our community at every level, from our youngest learners to our hardworking staff and our dedicated parents. We have a number of important initiatives that we are currently working towards:
1. Enhancing our after school program for our 65 school age students who have requested support with cooking, the arts, STEM activities, and photography. We are raising funds to purchase equipment such as STEM kits, cooking & art supplies, and to cover the cost of bus and entrance fees for field trips to museums that would enrich learning in the areas of STEM, arts, and civics.
2. Increasing our mental health support by hiring a full-time bilingual Licensed Clinical Social Worker. They will provide crisis intervention services to families and staff, and coach our Family Support Workers. What sets us apart from similar agencies is our focus on supporting children with adverse childhood experiences, including housing loss and trauma. Over the last three years, we have seen a 17% increase in enrollment with significantly more diverse learners. Currently, 33% of our students are diverse learners. An on-site LCSW will guarantee timely service that is culturally and linguistically appropriate. They will also work to destigmatize mental health support with ongoing education and screenings available to all.
3. Renovating part of our building to add 4 classrooms, increasing our enrollment by 52 additional students ages 0-5. These new spaces would also be used for on-site parent training & fun activities like our popular Zumba classes, and would also be used by our after-school program. We are actively fundraising for these capital costs.
As we are in the middle of celebrating the achievements and contributions during Hispanic Heritage Month, what does this month signify to you?
This Hispanic Heritage Month, I am reflecting a lot on legacy. It's wonderful timing as I recently met one of our co-founders, Reverend José Augusto Burgos (known to us as Joe), and his wife Janice. In the 1960s, Rev. Burgos was the pastor at Emmanuel Presbyterian Church, but he was also a community leader and grassroots activist for local schools, helping them organize their school councils and seek federal support for improvements. For years, he was the President of the Jungman School Parent-Teacher Council, President of the Pilsen Neighbors School Council, and a spokesman for the community in the struggle with urban renewal. Among other incredible accomplishments, Rev. Burgos was a member of the United States Commission on Civil Rights in Illinois. In these and many more roles, he invested countless hours towards building and improving our community, and inspiring action from key stakeholders to improve school conditions. I was so inspired by meeting Rev. Burgos and hearing about his extraordinary legacy in Pilsen. He represents the history that we have inherited and all that is possible with resilience, collaboration, and social justice as our guiding star.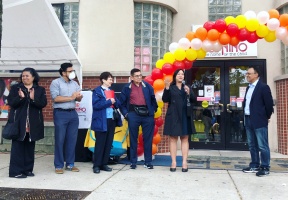 Photo Credit: El Hogar del Niño