By: Ashmar Mandou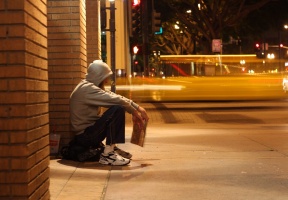 In an effort to raise awareness of the growing crisis of homelessness occurring all over Chicago, people from all different backgrounds will spend the night outdoors on November 17th, away from the comfort of their homes.
The sixth annual Sleep Out: Chicago hosted by Covenant House Illinois aims to raise awareness and funds to help homeless youth affected by homelessness. Two hundred plus participants are expected to attend -75 will be on-site at Covenant House Illinois' limited capacity in-person event at their new facility in East Garfield Park and the remainder will be tuning in virtually from their offices or homes. A full evening of programming will include testimonials from Covenant House Illinois Youth Alumni, a Candlelight Vigil, a panel discussion, group activities, and more. The program will conclude with "sleeper" reflections, followed by a night outdoors under the stars in temperatures expected to dip into the mid-30s.
The night outside is an act of solidarity with the estimated 14,000 plus (according to a recent report) young people experiencing homelessness every night in Chicago, recognizing the critical issue of youth homelessness and sending a message to homeless young people that they are not alone. "Participation in Sleep Out helps amplify the voices of our young people and represents another step forward in Covenant House Illinois' fight to eradicate youth homelessness," said Susan Reyna- Guerrero, Covenant House Illinois' Executive Director. "Our supporters are the lifeblood of this organization, and we cannot win this fight without them."
Sleep Out: Chicago 2022 has a fundraising target of $750,000, an objective Covenant House Illinois hopes to achieve through a combination of peer-to-peer fundraising and corporate support. Veteran Sleep Out participant and recently retired Accenture Chicago Office Managing Director, Jim Coleman, is returning for a second straight year as Sleep Out Corporate Chair, and he is joined this year by Co-Chair Tony Colon, Senior Vice President, Customer & Partner Experience at Cisco, and CHIL board member. "I am proud to be standing alongside Jim as a co-chair for Sleep Out: Chicago," said Colon. "Cisco is a committed partner and longtime supporter of Covenant House, and I am honored to be representing the company and the CHIL Board of Directors to raise critical funds for this vital cause."
"This is a no small objective,' she acknowledged of the $750,000 Sleep Out target. "But it's one that with the support of our friends and partners, I know we can and must achieve. Our objective is high, but so are the stakes. If we are to continue to be the reliable, life-changing resource our young people depend on, our efforts demand nothing less than complete success," said Reyna-Guerrero.