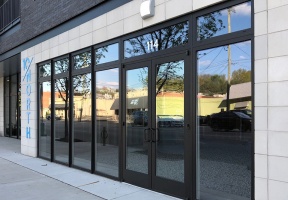 The Chicago Department of Business Affairs and Consumer Protection (BACP) announced the opening of over 55 spaces as part of the City's Small Business Storefront Activation Program. These storefront activations are the culmination of $2 million in grant funding the City awarded to seventeen local community and economic development organizations to support small businesses by activating previously vacant storefronts across the city. These grantees worked closely with small business owners, artists, and landlords to provide rapid relief to small businesses by designing and implementing vacant storefront activations on commercial corridors just in time for the Holidays. Through collaboration and dedication of these organizations, Chicagoans will have a chance to shop at 25 Pop-Up spaces filled with over 140 vendors and view art from over 50 artists in 30 previously vacant storefronts.  A few of the Small Business Storefront Activation Program Locations and Information include:  
  
18th Street Development Corporation
• Inaugural event November 26th  
• Pilsen Pop-Up Shop  
• Cermak Pop-Up Shop, 1835 W. Cermak Rd.  
• 18th Street Pop-Up Shop, 1412 W. 18th St.  
• All locations open Thursday to Sunday from 2 p.m. to 9 p.m.  
Magnificent Mile Association  
• Pop-Up at Kavi Gupta Gallery, 535 N. Michigan Ave.  
• themagnificentmileassociation.com  
Puerto Rican Cultural Center
• Arturo Schomburg Afro Boricua Immersion (ASABI) Center, 2536 W. Division St.  
• Pop-Up Space, 2538 W. Division St.  
• Puerto Rico Town Performing Arts Hall, 3411 W. North Ave.  
• Art activations on Division St. and North Ave.  
• prcc-chgo.org  
To learn more about this Program and BACP's Recovery Plan efforts, please visit Chicago.gov/BACPRecoveryPlan.