By: Ashmar Mandou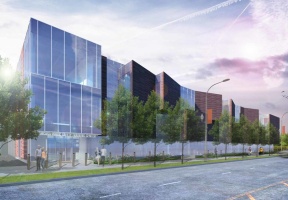 The City of Chicago on Wednesday unveiled the completed Public Safety Training Center (PSTC) during a ribbon cutting ceremony. PSTC is a new state-of-the-art training center designed to equip first responders with modern facilities to 'hone their skills for emergency response situations, investigations, and tactical operations.'
The Public Safety Training Center features a six-story tower with each floor simulating different environment firefighters encounter daily, including apartments, hotels, and office buildings. The center also includes an indoor and outdoor scenario village replicating a four-way intersection common in most neighborhoods. The departments will use this scenario village to train first responders on how to respond to various emergency calls. 
"Opening the new Public Safety Training Center represents a public safety milestone for the city of Chicago with collaborative education, and sophisticated training and tools for the next generation of first responders and current police officers alike," said CPD Superintendent David O. Brown. "This campus is both an investment in the community and active part of this community that will engage and inspire youth and grow trust while connecting residents." 
The new training facility sits on a 30.4-acre in Humboldt Park on a former rail yard purchased in 2017, which had been vacant for more than 40 years. In addition to the main academy building, the site will also host two minority-owned restaurants, Peach's and Culvers, as well as a 27,000-square-foot Boys and Girls Club that are all slated to open this summer. The PSTC, the Boys and Girls Club, and the Culver's and Peach's restaurants represent nearly $170M in public and private investments in the Humboldt Park community.
"I'm proud the Public Safety Training Center is in West Humboldt Park and that our community will play a role in serving hundreds of recruits tasked with protecting the city," said Alderman Emma Mitts (37th Ward). "The PSTC is critical to public safety and training firefighters and police officers. Additionally, the facility is attracting businesses like Culver's and Peach's restaurants and organizations like the Boys and Girls Club to our neighborhood, ensuring more job opportunities for our residents."  The PSTC is situated between two Invest South/West – one in Austin and the other in West Humboldt Park – that will see $95M in new private investment in the coming years, according to the City of Chicago.