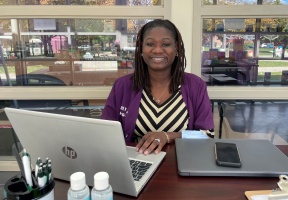 At Family Focus Lawndale, staff say they are striving to work themselves out of a job.
The organization, which provides support services and resources for families on the city's West Side, hopes that one day the parents they work with will no longer need their help because they've become self-sufficient.
"We try to make sure we walk alongside our families and meet them where they are so they can become healthier for their children," said Loukessa Hawkins, one of Family Focus' case managers.
This summer, Family Focus added benefits outreach to its long list of services as part of the Food Depository's Benefits Access Network. The network is designed to help communities better connect residents to needed public benefits, particularly the Supplemental Nutrition Assistance Program (SNAP) and other key anti-poverty programs. BAN operates in areas where the estimated number of SNAP-eligible households far exceed the number of households enrolled in the benefits program.
The Food Depository's benefits outreach team aims to close the current enrolment gap. It helps raise awareness about SNAP, WIC, Medicaid and other programs, trains community partners on the application process and assists community members with their applications. The BAN model operates in three communities with more than a dozen partners in the North Lawndale, Austin and Englewood neighborhoods.
"As we build on our equity work, we want to make sure that our outreach in underserved communities is built on community voices," said Sara Bechtold Medema, the Food Depository's public benefits capacity building lead. "We've really come to understand that while our team has a lot of expertise when it comes to SNAP and Medicaid policy and eligibility, our partners in the community have a deeper understanding of the gaps and barriers that might be preventing their neighbors from accessing those benefits."
Hawkins, who manages the benefits outreach at Family Focus Lawndale, said she has been able to educate community members of all ages—from teenagers to older adults—about their eligibility for the programs. And many welcome the help with navigating the application process.
"It's easier, and it's a light atmosphere for the families to come in," said Hawkins. "(Applying for benefits) is already stressful, you don't know what you need… This is not so information-heavy. It's a conversation."
To learn more about the important work of the Food Depository's Benefits Access Network, visit chicagosfoodbank.org/BAN.
Photo caption: Loukessa Hawkins, case manager at Family Focus Lawndale, helps connect local families to public benefits as part of the Food Depository's Benefits Access Network.