By: Ashmar Mandou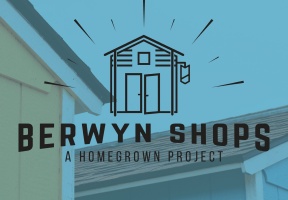 Twelve new businesses will make their Berwyn debut on Friday as part of the Berwyn Shops: A Homegrown Project grand re-opening. The Berwyn Shops: A Homegrown Project is a retail incubator designed to provide entrepreneurs, artisans, and everyone in between with education, resources, and coaching sessions to help the individual accomplish their dream of opening their own business. Berwyn businesses will open their doors every Friday, Saturday, and Sunday and all are welcome to check out everything from hand-poured candles to apparel to baked goods. Kendra Shaw, Economic Development Manager for Berwyn Development Corporation offered up more insight to the significance of the Berwyn Shops: A Homegrown Project and what she's most excited to unveil.
Lawndale News: The Berwyn Shops: Homegrown Project is about to launch its second season of new small businesses next week.  What are you looking forward to the most during the grand opening?
Kendra Shaw: We are excited for the Berwyn Shops to once again be used as a dynamic community space, celebrating small businesses, entrepreneurs, and artisans. We cannot wait to welcome back Berwyn residents and frequent shoppers, and to introduce our 12 new business owners to such an incredibly supportive community.
LN: What inspired the City of Berwyn to launch the "Homegrown Project"?
KS: As an organization, the Berwyn Development Corporation aims to support small business owners and connect them with the resources needed to succeed. Through conversations with entrepreneurs over the last few years, we realized that additional programming, like "A Homegrown Project" would help businesses take the next step from a pop-up vendor or online store to a brick-and-mortar. 
LN: How is this retail incubator different from other programs designed to help entrepreneurs? 
KS: The Berwyn Shops is designed for home-based businesses, artisans, or makers to test out the local market without committing to full-blown storefront operations. By offering ongoing marketing support, tailored educational sessions, and a mini store, we are lowering the barriers to a physical location, as well as empowering entrepreneurs to expand their businesses. Every year, the Berwyn Shops welcomes 12 new small business owners to the space. The business owners design their interior to match their branding, attend monthly trainings, and operate their mini storefront every Friday-Sunday for about 7 months. While on site, they share successes, lessons learned, networks, event ideas, etc.
LN: If a potential entrepreneur is interested in partaking in the Berwyn Shops: A Homegrown Project, how can they get involved? 
KS: We encourage all entrepreneurs to apply for the Berwyn Shops. Applications open in November for the following season. To prepare for the application process, small business owners can draft business plans, build up inventory, and take educational workshops at the Berwyn Development Corporation. Entrepreneurs can also apply to be a pop-up during the Berwyn Shops Second Saturday Pop Up Markets. This gives them the opportunity to see the incubator in action and spread awareness of their brands. If community members are not entrepreneurs, but would like to be involved, there are several opportunities. We invite live artists and musicians to perform on site during open shop hours. We also host events and welcome partnerships. All information can be found on berwynshops.com.
LN: What are you most excited for people to see during the grand opening ceremony? 
KS: We are incredibly proud of the new cohort of Berwyn Shops vendors already and we cannot wait for people to vast array of products available on site – everything from handmade accessories and tasty treats to artisanal shoes and natural skincare. There truly is something for everyone at the Berwyn Shops!
LN: Any advice for individuals apprehensive about taking the next step in their entrepreneurial journey? 
KS: We understand that running a business is hard, but we are here to support! I encourage entrepreneurs to sign up for mentorship or advising, to test out the local market through our Second Saturday pop-ups, or even apply for our new homegrown project, Sprout.
The Berwyn Shops: A Homegrown Project is located at 6931 Roosevelt Rd, the incubator program will run from May to mid-December. For more information about the Berwyn Shops and the 2023 cohort, visit www.berwynshops.com/.