By: Ashmar Mandou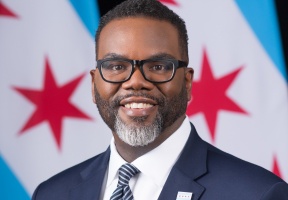 Sworn in as the City of Chicago's new mayor, Mayor Brandon Johnson hit the ground running signing a slew of executive orders, including an order to establish a deputy mayor for immigrant, migrant, and refugee rights. "We don't want our story to be told that we were unable to house the unhoused or provide safe harbor for those who are seeking refuge here. Because there's enough room for everyone in the city of Chicago whether you are seeking asylum or you are looking for a fully funded neighborhood," Johnson said during his inauguration speech on Monday.
The executive order will establish a Deputy Mayor for Immigrant, Migrant, and Refugee Rights and makes the new role responsible for the coordination and communication between all applicable City departments and officials related to the City's efforts to support newly arrived and established immigrants, refugees, and migrants. In addition, the order instructs all City department heads to take direction from the Deputy Mayor for Immigrant, Migrant, and Refugee Rights to assist with efforts to address immediate needs and long-standing policy and programmatic goals to ensure the efficacy of Chicago's status as a welcoming and sanctuary city. 
New migrants are expected to arrive in Chicago and increase now that pandemic-era Title 42 restrictions on border crossings have ended. Last week, outgoing Chicago Mayor Lori Lightfoot issued an emergency declaration in response to illegal immigrants being bussed to her city by Texas Gov. Greg Abbott. Her office counted over 8,000 arrivals since August 2022.
"Speaking of the right thing to do, the soul of Chicago tells us that we will never close our doors to those who come here in search of a better life," the mayor said later on. "For as Scripture says, 'I was hungry, and you gave me something to eat, I was thirsty, and you gave me something to drink, I was a stranger, and you invited me in. I needed clothes and you clothed me. I was sick and you looked after me. I was in prison, and you came to visit me.' That has always been the soul of Chicago, and it will always be the soul of Chicago." 
Over 8,000 migrants, most of them from Central and South America, have arrived in Chicago since last August. The City of Chicago received just $5.5 million from the Federal Emergency Management Agency to care for immigrants. However, as Chicago continues to face "a humanitarian crisis" amid a wave of migrants, the Chicago City Council will be asked to spend $53 million from the city's budget surplus to address the crisis. Recently, Chicago opened temporary shelters at police stations across the city over the weekend to accommodate busloads of nearly 600 migrants.