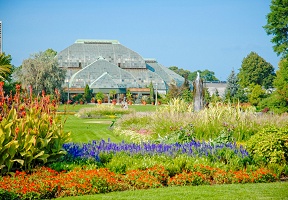 By: Ashmar Mandou
Escape the hustle and bustle of the city this Memorial Day weekend by visiting one of the many luscious gardens around the city replete with exotic flowers and waterfalls. From serene Japanese gardens to a 500-acre garden with a golf-course and museum, there is an abundance of green fields to see so plan your visit and prepare to be inspired and feel a sense of renewal.
Lincoln Park Conservatory
Visit the Lincoln Park Conservatory and step into beauty and tranquility. Feel the clean, oxygen-rich air. Smell the fragrant tropical flowers. See ancient ferns and towering palms. Experience the charm of a Victorian Era glass house.  Built between 1890 and 1895, the historic Lincoln Park Conservatory displays lush, exotic plants from around the world in four display houses. Lincoln Park Conservatory is located at 2430 N. Cannon Drive. To plan your visit to the Lincoln Park Conservatory, visit www.lincolnparkconservancy.org.
Garfield Park Conservatory
Chicago's Garfield Park Conservatory is one of the largest and most stunning botanical conservatories in the nation. Often referred to as "landscape art under glass," the Conservatory showcases thousands of plant species from around the world throughout eight indoor display gardens. Garfield Park Conservatory is located on 300 N. Central Park Avenue. For more information, visit www.garfieldconservatory.org.
Anderson Japanese Gardens
Enjoy the twelve-acre landscape of streams, waterfalls, winding pathways, and tranquil koi-filled ponds at Anderson Japanese Gardens. Repeatedly rated at one of North America's highest quality Japanese gardens for more than a decade, Anderson Japanese Gardens creates a unique experience with first-class craftsmanship and authentic garden designs. Anderson Japanese Gardens is located at 318 Spring Creek Road, Rockford, IL. For more information, visit www.andersongardens.org.
Morton Arboretum
The Morton Arboretum is an internationally recognized tree-focused botanical garden and research center near Chicago in Lisle, Illinois. Its 1,700 acres include specialty tree and plant collections, 9 miles of roads and 16 miles of hiking trails, a central Grand Garden, Children's Garden, educational programs and a Visitor Center. The Morton Arboretum is located on 4100 Illinois Route 53, Lisle, IL. For more information, visit www.mortonarb.org.
Chicago Botanic Garden
The Chicago Botanic Garden is a 385-acre living plant museum situated on nine islands in the Cook county Forest Preserves. It features 27 display gardens in four natural habitats: McDonald Woods, Dixon Prairie, Skokie River Corridor, and Lakes and Shores. Chicago Botanic Garden is located at 1000 Lake Cook Road., Glencoe, IL. For more information, visit www.chicagobotanic.org.
Cantigny Park
Set on a 500-acre estate of Colonel Robert R. McCormick, long-time editor and publisher of the Chicago Tribune, and founder of the Chicago-based Robert R. McCormick Foundation, are luscious gardens, walking trails, a museum dedicated to the 1st Infantry Division of the U.S. Army and 27-hole public golf course. Cantigny Park is located 1S, 151 Winfield Road, Wheaton, IL. For more information, visit www.cantigny.org.