By: Ashmar Mandou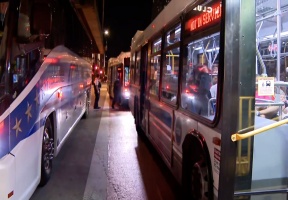 The Chicago City Council on Wednesday approved the $51 million budget that will address the migrant crisis affecting Chicago as part of the New Arrivals mission. The funding, approved by the Committee on the Budget and Government Operations last week, officially passed in City Council and will now appropriate funding to several key issues, such as housing, food, health and wellness, among a few.
"Chicago is facing a humanitarian crisis as individuals and families continue to be sent here and other Democratic-led cities across the country without regard for their well-being," said Mayor Brandon Johnson. "My administration will do everything in our power to support these new arrivals as they work to rebuild their lives in the U.S while still upholding our commitments to the residents of Chicago. This appropriation is critical to support our efforts to provide housing and services in the immediate future, and I will continue to advocate for additional state and federal funding for as long as needed." The funding was approved by a 34-13 vote.
In 2022, the City expended a total of $17.5M to support the New Arrivals mission, which began on August 31, 2022. This included $5.5M received from the FEMA Emergency Food and Shelter (EFSP) grant, demonstrating the City's commitment to providing immediate assistance and vital resources to migrants in need.
The City estimates projected costs of $102M to address the ongoing migrant crisis from January through June 2023. To secure the necessary financial resources, the City has been awarded $30M from the State of Illinois, highlighting its recognition of the urgency and significance of the situation. Additionally, $4.3M has been granted to the City through the FEMA Emergency Food and Shelter Program (EFSP-H).
Over 8,000 migrants, most of them from Central and South America, have arrived in Chicago since last August. The City of Chicago received just $5.5 million from the Federal Emergency Management Agency to care for immigrants. Chicago opened temporary shelters at police stations across the city over the weekend to accommodate busloads of nearly 600 migrants. As of today, 300 migrants were recently moved to Wilbur Wright College in Chicago's Dunning neighborhood as a temporary shelter from now until the start of the school year.