By: Ashmar Mandou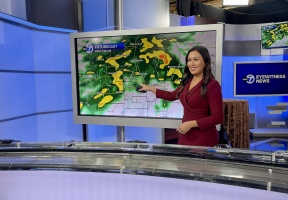 In her eight year career as a meteorologist, Jaisol Martinez is making a name for herself in Chicago by becoming the first female Latina meteorologist on ABC 7. Joining the network in January 2023 as a morning news weekend meteorologist, Martinez is looking forward to calling Chicago home for a while. "I love Chicago," said Martinez. "My husband and I immediately felt at home here. We felt a sense of that Midwestern community, the people are lovely, and it reminds me of home." Hailing from El Paso, Texas, Martinez began her career at WMDT-TV in Salisbury, MD forecasting weather in the coastal areas of Delmarva to then working for WHDH-TV in Boston, where she spent four years as the weekend evening meteorologist. "My family is very proud of me. I was pretty much the first one to leave Texas," said Martinez. "So they are very proud of me and very supportive." Jaisol Martinez kicks-off our Hispanic Heritage Month series as she shares what it means to her to be the first female Latina meteorologist on ABC 7. You can also catch Martinez on Sunday, Sept. 24th alongside co-host Rob Elgas with Mark Rivera and Michelle Gallardo as they debut Our Chicago: Nuestro Segundo Hogar as part of ABC 7 Hispanic Heritage Month special program.
Lawndale Bilingual News: You are the first female Latina meteorologist at ABC 7! How does that feel?
Jaisol Martinez: I was shocked to learn that I was the first female Latina meteorologist and I don't take that lightly. I grew up not seeing a lot of people like me and I just feel very proud to be able to be that representation. I feel inspired and I just want to yell it to the world that it is possible. After being in the industry for eight years this is the first station that allows me to embrace being the first female Latinas and gives me the resources that I need to represent my community. It's important to have a station that prioritizes community and community involvement just as much as they prioritize time on air.
Lawndale Bilingual News: You were born and raised in El Paso, Texas where the weather sparked your interest in meteorology. Do you remember how that developed?
Jaisol Martinez: Initially, I was scared of storms. I would run away from the screen door, but I was curious so I would watch [laughs]. I remember thinking that if I can predict when it's coming then I don't have to be scared of it anymore. So that's how the initial interest started…I was fascinated ever since I was a little girl. I kept saying I wanted to be a meteorologist so I made my brothers look up where I can go to school for that and there was only one school that offered a meteorology program and that was Texas A&M.
Lawndale Bilingual News: What was your college experience like studying meteorology?
Jaisol Martinez: I was scared to leave home so my first year I stayed home. From there I transferred to Texas A&M began the meteorology program and I remember I did not want to do TV, at all [laughs]. I considered myself awkward. In meteorology school you don't do any broadcasting, it's all physics and math and not until the last semester. You take one hour of broadcast class and that's all that there was. So I thought I was awkward, I was shy, but I had a mentor who encouraged me to do internships and encouraged me to practice. She kept telling me I had to practice. It takes some time and when I went to my first market, I was forecasting on my own and broadcasting on my own…it took a full year for me to be comfortable and get the hang of it.
Lawndale Bilingual News: What aspect of your job do you enjoy the most?
Jaisol Martinez: I love all of it. I really do like my job a lot. I think the most important part of my job is being able to communicate things in a way that's going to impact lives. I work hard at that and it's always great to receive feedback from our viewers about how we made their lives a little easier.
Lawndale Bilingual News: What advice do you have for youth who want to pursue a career as a meteorologist?
Jaisol Martinez: Math and science are very important. From a young age having that initial interest in math or science is important and also as a family developing that curiosity. Then look for programs and opportunities to help you along the way.
Lawndale Bilingual News: As we celebrate achievements and contributions of Latinos during Hispanic Heritage Month there is also a crisis that we are experiencing here in Chicago. What would you like people to know about the Latino community?
Jaisol Martinez: My parents came here from Mexico in the 1970s and I think about their journey and how different the journey is now and I think we have to be gentle with everything that comes with immigrations. I think it's a sense of pride of what can we do to make this process easier for immigrants and I get that from my parents. I think we have to be gentle and kind.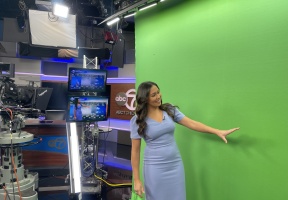 Photos Courtesy of ABC 7