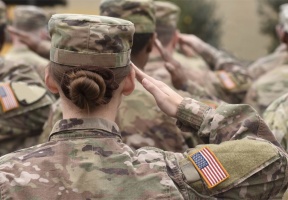 Chicago-area women Veterans are invited to a Women Veteran Standdown and Mini-Retreat on Sept. 8 from 9 a.m. to 4 p.m. at Malcolm X College in Chicago. The event is organized by the Women's Health Programs of Edward Hines Jr. VA Hospital and Jesse Brown VA Medical Center. Its goal is to connect women Veterans with services unique to their needs and help develop a healthy lifestyle.  Services offered will include:
• Guest speakers 
• Financial management 
• Career coaching
• Suicide prevention 
• Intimate partner violence support
• Military sexual trauma support 
• Caregiver support assistance 
• Whole health resources 
• Personal wellness, including massage therapy, yoga, reiki and manicures.
The event will also feature Chicago-area organizations to aid women Veterans. Among the attending groups are: America Works, Body Works for Vets, Brushwood Center, Chicago Vet Center, Cook County Clerk Veterans Affairs Office, Daughters of the American Revolution, Dog Tag, Dress for Success, Illinois Department of Veterans Affairs, Illinois Joining Forces, and Illinois State University Career Services to name a few. Advanced registration is recommended but not required. To register, visit HinesVA.Hospital/WomenVetRetreat. Malcolm X College is located at 1900 W. Jackson Blvd, Chicago, Illinois 60612. The event will be held in rooms 1102, 1103 and 1104. Parking is free after validation at the retreat. Complimentary breakfast and lunch will be available.