Compiled by Ashmar Mandou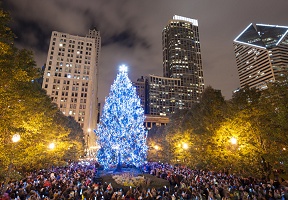 There is nothing more enchanting than the holiday season in Chicago where twinkling lights glow all around you, the city is active with enthusiasm, and many holiday traditions are to be made from catching a wonderful production at the Goodman Theatre to enjoying the view of the skyline from Lincoln Park. We have your holiday kick-off guide to ensure you have the most magical time of the year.
Christkindlmarket at Daley Plaza
Nov. 17th- Dec. 24th
50 W. Washington
For details, visit www.christkindlmarket.com
Goodman Theatre's A Christmas Carol
Nov. 18th – Dec. 31st
170 N. Dearborn
For more information, visit www.goodmantheatre.org
Millennium Park Tree
Nov. 17th – mid-January
11 N. Michigan
State Street Holiday Lights
Nov. 14th – early January
State Street from Ida B. Wells to Wacker Dr.
Zoolights at Lincoln Park Zoo
Nov. 17 –Jan. 7th
For information, visit www.lpzoo.org
Santa's Southern Workshop at Navy Pier
Friday, Nov. 24th
For information, visit www.navypier.org
Light Up the Lake
Nov. 24th –Dec. 31st
For information, visit www.navypier.org
Little Village Toy Drive and Posada
Friday, Dec. 8th
Manuel Perez Jr., Memorial Plaza
Winterland at Gallagher Way
Nov. 17th –Jan. 7th
For information, visit www.gallagherway.com
Maggie Daley Ice Skating Ribbon
Nov. 17th –March 10th
For details, visit www.maggiedaleypark.com