By: Ashmar Mandou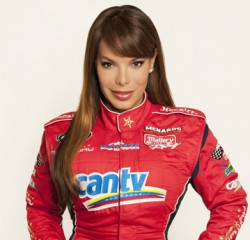 Venezuelan native Milka Duno is making history as one of the few female race car drivers out there, today, garnering international attention for her impressive record on the track. In 2007, Duno became the first Latina woman, in its now 101-year history, to qualify for and compete in the world-famous Indianapolis 500. Duno, who holds four Masters Degrees, also became the first woman in history to win a major international race in the United States and has competed in more types of race cars in more different racing series than any other current female driver, with eight major motorsport wins to her credit. As a result, Duno earned her way into the Latin American International Sports Hall of Fame at their 35th Anniversary Induction Ceremony in January 2010, the first Venezuelan athlete to do so. This weekend, Duno will once again attempt to make history by competing in the ARCA Racing Series race at Chicagoland Speedway in Joliet on Saturday, July 20th and Sunday, July 21st. This week, Duno phoned Lawndale Bilingual Newspaper to talk career, education, and her love for racing.
Making History
There is no room for excuses. I knew if I worked really hard, I could do anything. There is space for anyone who wants to compete, but race car driving isn't easy. It's a sport that involves a lot of conditions and variables. You need high determination to compete with the same rules and conditions as the other guys. It is a sport that you have to have a tough mentality. It doesn't matter if you are a women or a man, the important thing is your ability, your intelligence to do the same job as the others.
Discipline
One of the advantages I have was my preparation as an engineer when I studied in a military university. I have a lot of discipline in everything that I do in my life. My education was a big advantage…since the beginning when I started my post graduate degrees, I learned so fast and was so determined to do my best. It all helped me have a successful career in car racing. When you are over 200mph and there are 23 cars with you, you can't afford to lose concentration [laughs]. And as women we naturally tend to thing about many different things at the same time [laughs], so being able to fully focus and concentrate was something I learned early on in my education.
Love at First Sight
When I was done with my post graduate studies, some friends invited me go with them to some drag race where there would be plenty of cars to drive. It sounded fun so I went with them. It changed my life. I realized that all the races I did, I won. I realized I had a talent for race car driving, a talent I didn't think I would ever uncover. I soon learned all that I could about race car driving. I decided to come to the United States for some training and after a few weeks, a couple of teachers called me to see if I would be interested in competing in an actual race. That's sort of how I got started. It's my destiny. I like the challenge. I like the difficult aspect to racing. You have to be mentally prepared and your body has to work at the optimal level and that's what I enjoy about the sport. We only have one life and we should use it to do many things. We need to use the time we have to reach that next goal and not waste it.
Milka Way
Milka Way program is a way to give my little contribution to the new generation and give back. I want to help them understand how important education is and how education is the most powerful tool that kids have in their life. I want to do everything to motivate them, to inspire them, and to help them understand that with education we can do whatever we want in life; the doors are open to us.
If you would like to attend the ARCA Racing Series this weekend, visit www.ARCAracing.com. For more information on Duno's organization, visit www.milkaway.com.