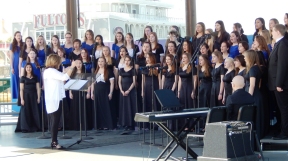 Members of Riverside Brookfield High School Choral became stars of their own Disney show on Feb. 15th, 2015 when they entertained resort guests at Waterside Stage at Downtown Disney. The group traveled over 1,100 miles from Riverside, Ill. to the Walt Disney World Resort in Florida to take part in the Disney Performing Arts Program.
The choral, under the direction of Diane Marelli, put on an exceptional show that entertained hundreds of Downtown Disney guests. The group's performance included a harmonic choral suite from "Frozen." This was the group's third visit to the resort with the Disney Performing Arts Program. In addition to their performance, the group participated in the Disney Performing Arts "Disney Sings" workshop, where they experienced the exhilaration of being a professional performer as they prepared music for a simulated Disney show under the tutelage of a seasoned Disney vocalist.
Vocal, instrumental and dance ensembles from all around the world apply to perform each year as a part of Disney Performing Arts at both the Disneyland Resort and the Walt Disney World Resort. Once selected, they are given the opportunity to perform at the resort for an international audience of theme park guests. Millions of performers have graced the stages of the Disney Parks in the more than 25-year history of the program. For more information, visit www.DisneyPerformingArts.com or call 1-800-603-0552.