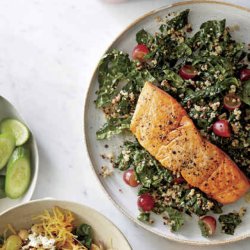 Ingredients
1 (6-oz.) wild salmon fillet
Cooking spray
1 teaspoon olive oil
1/8 teaspoon salt
1/8 teaspoon freshly ground black pepper
1 1/2 cups thinly sliced lacinato kale
1/2 cup cooked quinoa
1 tablespoon All-Purpose Citrus Dressing
5 seedless red grapes, halved
How to Make It
Preheat oven to 425°F.
Place salmon on a foil-lined baking sheet coated with cooking spray. Rub evenly with oil, salt, and pepper. Bake at 425°F for 10 minutes or until fish flakes easily when tested with a fork.
While fish cooks, combine kale, quinoa, All-Purpose Citrus Dressing, and grapes in a bowl; toss to combine. Let stand 5 minutes. Top with salmon.