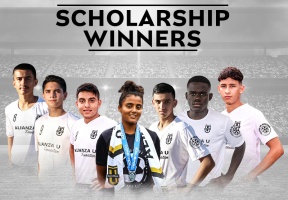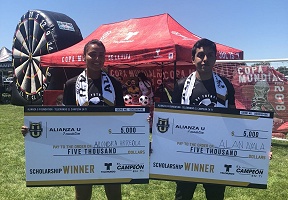 In partnership with the Alianza U Foundation, Telemundo announced the seven recipients of the "El Campeón en Ti" (The Champion Within You) scholarship to select participants of the Foundation's mentorship program. Earlier this year, NBCUniversal Telemundo Enterprises launched "El Campeón en Ti" (The Champion Within You), a company-wide campaign under the initiative, "El Poder En Ti" (The Power Within You), focused on empowering young Hispanics to achieve their full potential and find their inner champion through sports. By partnering with the Alianza U Foundation, the "El Campeón En Ti" scholarship helps overcome financial barriers limiting many Latino youth from pursuing post-secondary education degrees and playing sports at the collegiate level. The Alianza U Foundation serves as a bridge for scholar athletes and their families to navigate the collegiate recruiting process and mentors students throughout the academic year to help them reach their educational and athletic goals. 
Among the recipients of "El Campeón en Ti" scholarship are:
Alondra Arreola (Wheeling, IL): She is the first woman to complete the Alianza U Foundation and competed against all-male teams in various tournaments. She is committed to Chicago State University and will be the first member of her family to attend college.
Alan Ayala (Calumet City, IL): Alan is committed to Roosevelt University. Alan and his family moved from Mexico when he was a baby, and he hopes to be the first member of his family to graduate from College. He is a DACA recipient, which has limited his possibilities from pursuing forms of financial aid.