From: Diabetic Living Magazine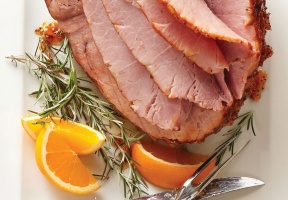 Orange marmalade, whole-grain mustard, and horseradish are combined with fresh rosemary to make a sensational glaze for this delicious ham. It's a perfect main dish for a holiday gathering or family reunion.
Ingredients
* 1 (5 to 6 pound) cooked, smoked bone-in ham (rump half or shank portion)
* 3 cups water
* ⅔ cup orange marmalade
* 2 tablespoons packed brown sugar
* 2 tablespoons whole-grain mustard
* 1 to 2 tablespoons prepared horseradish
* 1 tablespoon chopped fresh rosemary or 1 teaspoon dried rosemary, crushed
* Fresh rosemary sprigs (optional)
* Orange wedges (optional)
Preparation
* Preheat oven to 325°F. Score ham in a diamond pattern by making shallow diagonal cuts at 1-inch intervals. Place ham, cut side down, on a flat rack in a roasting pan. Pour the water into the bottom of the roasting pan around ham. Tent ham with foil. Roast for 1 hour.
1. Meanwhile, for glaze, combine marmalade, brown sugar, mustard, horseradish, and chopped or dried rosemary in a small saucepan. Cook and stir over medium-low heat until marmalade melts. Set aside.
2. After ham has roasted for 1 hour, brush ham with the glaze. Roast, uncovered, for 30 to 60 minutes more or until a thermometer inserted into center of ham registers 140°F, brushing ham with glaze every 15 minutes. Let stand for 15 minutes before carving. If desired, garnish serving platter with rosemary sprigs and orange wedges.