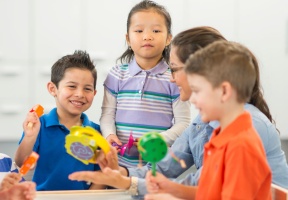 Chicago Public Schools (CPS) continues to expand early childhood learning opportunities as part of a citywide initiative to ensure every four-year-old child in the city has access to free full-day programming. CPS Chief Education Officer Bogdana Chkoumbova, Commissioner Brandie Knazze of the Department of Family Support and Services (DFSS), and CPS Chief Early Childhood Officer Leslie Mckinily visited preschool classrooms at Arnold Mireles Academy this morning as the early learning application portal opened, making preschool registration available for the 2023-24 school year.  Families can now register for the District's free full-day programming for four-year-olds and half-day programming for three- year-olds via the Chicago Early Learning website and registration portal, along with early childhood programming offered through community-based organizations approved by the Chicago Department of Family Support and Services (DFSS).
Application Process and Eligibility 
• Children who are four years old on or before September 1, 2023, are eligible for admittance into any CPS full-day and half-day preschool program. Children who are three years old on or before September 1, 2023 are eligible for CPS half-day programs. 
• Families are encouraged to take their time and review all options. The initial application period runs through May 2, and enrollment is based on our District's ongoing commitment to equity. 
• No preschool application will ask for proof of citizenship.
• Families who apply by May 2nd, will receive an offer on May 19. Families who apply after May 2 will receive their placements after May 19. Beginning May 19, any offers submitted will be responded to with an offer by the next business day. 
• Parents can apply online at www.chicagoearlylearning.org, by dialing the Chicago Early Learning (CEL) Family Support Hotline (312) 229-1690, or visiting a CPS school or one of the Family Resource Centers. In addition, families can receive registration support at several special events hosted in April across the city.