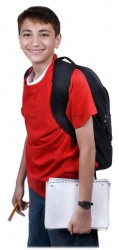 As the new school year approaches, parents and children planning their "back-to-school" lists are urged to keep backpack safety in mind. "Each year, about 6,000 children in the United States experience backpack-related injuries," states Dr. Katrina Ordonez, Clinic Director of Chiro One Wellness Center of River North. In an effort to cut down on the number of these injuries, Dr. Katrina Ordonez offers parents the following backpack safety advice:
Choose a lightweight backpack that doesn't add too much to your child's load. The pack should have two wide, padded shoulder straps and a padded back that will improve comfort and protect your child from being poked by the sharp points and edges of pencils, pens, rulers and other objects they need to carry.
Select the proper size backpack for your child. It should cover no more than three-quarters of the length of your child's back.
Load backpacks carefully and pack lightly. The maximum weight of a loaded pack should not be more than 15 percent of a child's body weight. Place the heaviest books closest to the back as they require the most body support. If a child has to lean forward to carry a pack, it's too heavy.
Have your child wear the pack correctly. He or she should use both shoulder straps. Carrying a backpack on one shoulder puts too much strain on one side of the upper body. The straps should be snug, but not too tight. If a backpack has a waist strap, use it to help better support the load and distribute the weight more evenly.
Use a locker (if available) and don't carry unnecessary items.
Squat down, bending at the knees, not at the waist, when lifting or lowering a heavy backpack.
Do back strengthening exercises to build up the muscles that support the spine.