By: Daisy Magana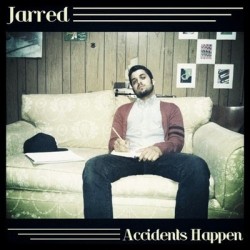 In every city, in every neighborhood, in every household there is an aspiring artist at work and Chicago certainly is no stranger to artistic talent. Whether it is an internationally recognized name like Common to Los Horoscopos Durango or even local artists such as, young Jarred Garcia, who is paving his wave with a fresh authentic sound, Chicago has a little bit of everything. Jarred Garcia recently released his mix-tape titled "Accidents Happen," describing his first encounter with music: accidental. In 2005 his brothers and he would play around and record over karaoke player on the deck or garage during the hot summer days. Jarred took a quick timeout and answered a few questions for Lawndale Newspaper.
Lawndale News: How did you first get introduced and interested in making music? How did you go from being the listener to the musician?
Jarred Garcia: I was always aware of music at a young age, my parents played albums ranging from Sade to Snoop Dogg all throughout the house. It wasn't until I had heard Aesop Rock's "Daylight" track from his Labor Days album that hip-struck me.
LN: How did you go from being the listener to the musician?
JG: I was probably 11 years-old at the time, but it sparked a fire in me that keeps burning to this day. From that hunger I began to progress musically and get my hands dirty with writing and rapping.
LN: Who are your musical inspirations?
JG: I wouldn't say who as much as I would say what. Granted I respect and admire a lot of artists doing it [music] right now, and even the ones who have done this before me, but I get inspired by the experiences of living…it's so unique to each individual, but at the same time there are some things that we as people all go through.
LN: How would you describe your style of music?
JG: I don't even like the word genre. It makes me feel so boxed in, and I'm claustrophobic. I would describe my music as life over some beats. I know life is such a subjective word, but I like it that way.
Family is important to Jarred's Puerto Rican upbringing, and it is they who have helped him in his musical track. His older brother Kyle plays the roles of promoter and DJ. When asked about his younger brother's musical style, he shares: "[it's] an introspective view of a Puerto Rican kid growing up in Chicago." To listen to Accidents Happen please visit: http://soundcloud.com/just-jarred