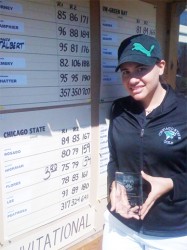 The National Collegiate Athletic Association [NCAA] Division I Committee on Athletics Certification announced that Chicago State University [CSU] has met all of the requirements for re-certification as a member of Division I. A certified designation denotes that an institution operates its athletics program in compliance with operating principles adopted by the Division I membership.
This announcement marks the culmination of an eighteen-month process that required a comprehensive review of the CSU Athletics Program and its interface with the university community conducted by five sub-committees and one steering committee composed of university stakeholders. The purpose of athletics certification is to ensure integrity in the institution's athletics program and to assist institutions in improving their athletics departments. NCAA legislation mandating athletics certification was adopted in 1993.
The NCAA Committee on Certification issued decisions for Chicago State University [CSU] and 26 other Division I institutions including Georgetown University, Vanderbilt University, Butler University, Northeastern University and the University of California, Los Angeles. A full list may be found at the CSU website.