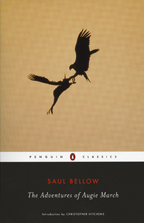 Chicago Public Library revealed The Adventures of Augie March by Saul Bellow as their 21st One Book, One Chicago selection last Wednesday at the Harold Washington Library Center. Included in TIME magazine's List of 100 Best Novels, The Adventure of Augie March centers on the life and times of a young man who grows up in Chicago during the Great Depression along with his two brothers and mother. Through his experiences with neighbors, friends, lovers, jobs and travels, we discover how his life's journey is shaped by his escapades and the city around him. Numerous events revolving around the current One Book, One Chicago selection, including a two-part Chicago Public Library branch book club series, will bring the life and times of Augie March to Chicago neighborhoods throughout September and October. Additional programs and events for adults and teens include:
A staged reading of excerpts from The Adventures of Augie March at Victory Gardens Biograph Theater featuring actors from local theater companies including Victory Gardens, Steppenwolf, Lookingglass and Teatro Vista.
YOUmedia: Chicago Stories Teen Showcase featuring high school students telling their own Chicago-themed stories in poetry, prose and other multimedia pieces.
For more information, please visit the website at chicagopubliclibrary.org or call the Chicago Public Library Press Office at (312) 747-4050.