Learn more at www.choosemyplate.gov on great choices for the whole family from every food group.
Veggie Pita Pizza Snacks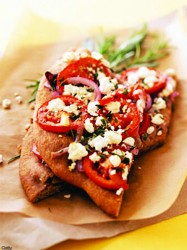 Preparation:
Prep Time: 20 minutes
Cook Time: n/a
Amount: 8 servings

Ingredients:
1 cup fat free cottage cheese
1/2 (8 ounce) package neufchatel (1/3 less fat) cream cheese , softened
1/2 (1 ounce) package dry ranch seasoning mix
8 mini whole wheat pitas
1 cup Reduced Fat 2% Shredded Cheddar Cheese
4 cups fresh veggies (shredded carrots, chopped broccoli, chopped cauliflower, chopped red and yellow bell pepper, shredded zucchini)

Directions:
1. Combine cottage cheese, cream cheese and ranch seasoning mix in a food processor or blender. Purée until well combined and smooth. Spread over pitas.
2. Top with shredded cheese and veggies. Cut each pita in quarters.

Watch for up to date information every week. If there is a specific health or nutrition related issue you would like more information on, please e-mail us at nutricion@lawndalenews.com or write to:

Lawndale News
5533 W. 25th St.
Cicero, IL 60804
ATTN. Fresh Take on Health and Nutrition Column from Jewel-Osco

Until next time!

Help kids make better choices by stocking the kitchen with kid friendly, balanced choices. Choose foods from all food groups (whole grains, fruits, vegetables, low fat dairy, and lean protein) Snacks that include at least two food groups make them work towards your children's nutrient needs, plus they taste great and can keep them satisfied til dinner.