By: Daisy Magana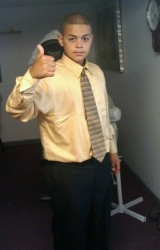 Monday, November 22, 2010 was a gloomy, rainy autumn day in the Chicago suburb of Cicero. Kevin Anthony Sanders was on his way to take out the trash to the back alley when he was fatally shot. Still wearing his school uniform, he laid in the alley while neighbors made phone calls to the police and ambulance. Unfortunately at 5:04 p.m. another teen had fallen victim to youth violence.
August 9th would have marked Anthony's 16th birthday and Rosa Sanders, his mother, instead of celebrating another year in his life, finds herself cooperating with Cook County Crime Stoppers in an effort to break into the standstill case. A vigil is set for August 13th from 12pm-1pm at the intersection of 16th Street and 55th Court.
Even though a reward has been set for any information leading to the arrest of whoever is responsible for Anthony's untimely death, no one has said a word. At a loss for words, a frustrated Ms. Sanders simply states that she feels more could have been done. "It's any mother's worst nightmare arriving to your house to find a crowd and flashing lights," explained Ms. Sanders.
She described her son as a prankster always joking and laughing. His charisma and charm made all the girls like him. The sudden fact that her son is no longer with her, her 9 year old daughter and both her parents blinds her like a deer in the headlights. He was really popular at school and for this random act to occur is unfathomable.
Police still have no suspects after an eight month investigation, and the only lead they have was captured by an out-dated surveillance camera from the nearby fire department is a large red van which was unable to get the license plate of the vehicle. The surrounding community is in need of an improved surveillance system as in the recent years there has been a rise in adolescent violence from which her parents who have resided there from more than 30 years can attest to. Ms. Sanders' father has tried to ease the family's tough time. She shares that his philosophy is "these things happen everywhere—[it] wasn't just Kevin."