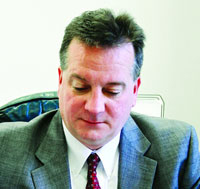 It is no secret that families throughout Cook County are hurting during these uncertain economic times. They have responded by tightening their belts and cutting back wherever possible. As elected officials, we need to show that same restraint. We have a responsibility to lead by example and exercise fiscal discipline when it comes to county spending.
Shortly after taking office, I sponsored an ordinance that called for ten mandatory, non-paid days off for non-essential county employees, which is projected to save taxpayers an estimated $30 million dollars.
I am incredibly disheartened to see that some of my fellow commissioners have refused to comply with the very ordinance that they voted for. How can we expect thousands of county employees to take a hit on their pay if we refuse to do the same?
The old entitlement system of county politics is over. The message is simple: do more with less…but make sure the rule applies to everyone. To put Cook County back on the path toward fiscal responsibility, complying with the furlough ordinance is not simply an option; it is a necessity for restoring trust and confidence in our elected officials.
-Jeff Tobolski
Cook County Commissioner, 16th District