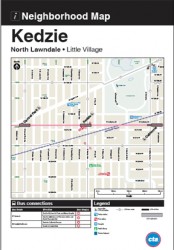 The Chicago Transit Authority is posting a map of the Little Village neighborhood at the Kedzie Station on the Pink Line. The map highlights CTA bus and rail service in the area, as well as local landmarks and points of interest such as Douglas Park, for added customer convenience. Designed by the CTA, the 40" x 27" color poster is located in the Transit Information Panel next to the station timetable and system map inside the station and displays various locations in the area such as:
nearby bus routes and bus stops;
rail lines and rail stations;
address coordinates;
community areas and public streets;
police and fire stations, to name a few

.
Similar posters can be found at 11 CTA rail stations: Wilson, Belmont, Sox-35th, North/Clybourn and Cermak-Chinatown on the Red Line; Division and Illinois Medical District on the Blue Line; Conservatory, 35th-Bronzeville-IIT and Garfield on the Green Line; and the Brown Line Western station. PDF posters for each station also will be posted on that station's information page on CTA's website at www.transitchicago.com.