Stock up on sales. Include dry and canned beans like kidney, pinto, navy, and black beans for simple additions to many dishes from salads to wrap sandwiches to casseroles. Beans are an economical choice packed with nutrition. Select frozen, dried, and canned fruits and veggies because these last – so when you find them on sale, fill the cart, and look forward to easy meal planning! Remember – choose options with less sodium and no added sugar.
Look for store brands. These choices provide the same quality at good prices.
Buy in bulk when it makes sense. If chicken is on sale in a large package, buy it, then when home, separate it into smaller portions and freeze in freezer safe packaging. Be sure to date and label the packages to keep track of all the great things in your freezer.
Buy spices on sale, too. Dried herbs and spices are a great option to make dishes tasty without adding sodium/salt and because they last a long time, their cost per serving makes that initial purchase worthwhile.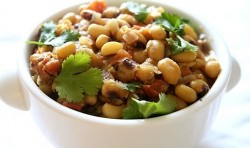 Spicy Black-Eyed Peas
Preparation:
Prep Time: 10 minutes
Cook Time: 70 minutes
Amount: 8 servings

Ingredients:
16 ounce black-eyed peas , rinsed and drained
1/2 pound Jewel® bacon , chopped
1 cup chopped onions
1 cup chopped green bell peppers
1 cup chopped red bell peppers
1 tablespoon chopped garlic
1 (14.5 ounce) can Jewel® diced tomatoes , undrained
1 (4 ounce) can diced jalapeños , undrained
1 tablespoon Creole seasoning

Directions:
1. Cook bacon in large pot until crisp; remove with slotted spoon and drain on paper towels. Set aside.
2. Add onions, peppers and garlic to bacon drippings in pan. Sauté until onions are softened (about 3-5 minutes).
3. Add in rinsed peas, tomatoes, jalapeños and Creole seasoning; stir. Add water just until peas are covered. Cover and simmer 45-60 mintues or until peas are tender.
4. Add additional water, if necessary. Serve with bacon as garnish.

Watch for up to date information every week. If there is a specific health or nutrition related issue you would like more information on, please e-mail us at nutricion@lawndalenews.com or write to:

Lawndale News
5533 W. 25th St.
Cicero, IL 60804
ATTN. Fresh Take on Health and Nutrition Column from Jewel-Osco

Until next time!

Can you eat balanced meals on a budget? Yes! With a little planning, meals can come together bursting with nutrition, taste, and easy on the wallet, too. It's easier than you think here are a few tips to get started: