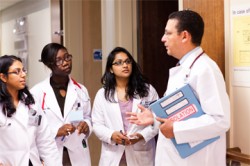 In the midst of Chicago's west side, surrounded by some of the most economically challenged neighborhoods in the city of Chicago, Mount Sinai Hospital offers "Gold Standard" patient care.
Mount Sinai is a member of Sinai Health System, an urban healthcare system situated in a five block area at the intersection of Ogden and California Avenue. It consists of Mount Sinai Hospital, Schwab Rehabilitation Hospital, Sinai Medical Group, Sinai Community Institute and Sinai Urban Health Institute.
As one of four Level 1 Trauma Centers in Chicago, Mount Sinai is known by many for its Emergency Department traffic rather than its additional qualifications as a teaching research and general acute care facility. Now Sinai's distinctions in quality are vying for the public attention that might have been focused elsewhere.
Sinai has been recognized for outstanding progress through the Surgical Care Improvement Project (SCIP), a quality initiative sponsored by the Centers of Medicare and Medicaid Services in collaboration with the American Hospital Association, Centers for Disease Control and Prevention, the Institute for Healthcare Improvement, The Joint Commission and others. Over the last year, Mount Sinai's scores on national quality measures for heart attack and heart failure care were greater than 99.4 (out of 100) and for pneumonia care it was greater than 98 (again out of 100). Additionally, in the last year, Mount Sinai Hospital received accreditations or certifications for stroke, chest pain, and obstetrical-gynecological ultrasound. If you would like to learn about the services Mount Sinai Hospital provides, visit www.sinai.org.